Dear Sponsors of Sammy,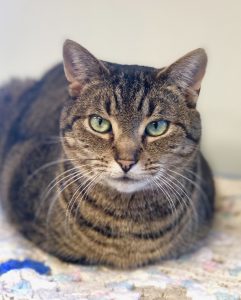 I've been writing updates for awhile here at Tabby's Place. The best kind of update you can write is when you can share the news that the cat you've been writing about—sometimes for years—has been adopted and is going off to their forever home! It is my fondest wish for all the cats, and when it finally comes true for a cat you love, especially in the middle of a pandemic, it seems close to being a miracle!
Because of the coronavirus, Tabby's Place is closed to visitors. Adoptions of cats were temporarily suspended, and only recently a new "virtual" adoption process began where prospective cat parents could meet the cats via videoconference. How wonderful that at this challenging time we can hear a bit of spectacularly good news.
That's why I want to shout from the rooftops that Sammy joined the ranks of the officially adopted and went home with her mommy on May 27, 2020! She had, of course, a full vet check up and all the necessary protocols were still followed. Our first report back was that Sammy's new mommy was able to pet Sammy on her first night at her new home, which is wonderful considering Sammy can be a little shy.
When I first received a text from Karina, Tabby's Place's Director of Volunteers, telling me that Sammy was on hold for adoption, I have to admit I had mixed emotions. I was thrilled that Sammy was being adopted, because I knew she'd be surrounded by love.
I imagined her in her new home, being cuddled and smooched, picked up and danced around. I imagined her being given the grand tour of where she was now going to live. Here's the best spot for watching the birds and the squirrels. Here's your snack bowl. Over here is your water bowl.
But, I was also sad that I wouldn't be able to say goodbye to her one last time. Because, you see, I've known Sammy for over four years. When I first met her, she was hiding under a large cage in one of the larger suites, and even when I stretched out on the floor, I could barely see her. I was told, "she's a beautiful brown tabby. But she's very shy." Gradually, she would come out from hiding, but whenever I came to visit, she rushed for cover. It took months before she wouldn't run when she saw me.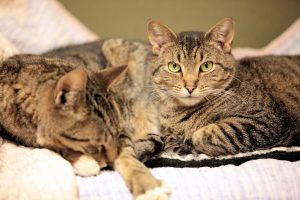 When she moved to a smaller suite, making contact, petting and making much of her (which I loved to do) became easier. I would walk into the suite, and she would be perched on one of the chairs. She'd hop off and hide under a chair. Gradually she didn't hop off. Gradually, she let me pet her.
She had some tough times making friends with some of her suitemates…until she met Max. A true friendship evolved, and they became inseparable for a while. Some of us thought it was more of a romantic attachment, and it was good to see Sammy and Max cuddled together.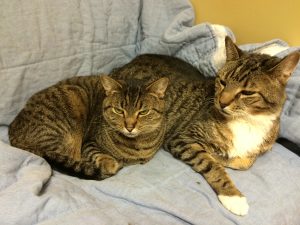 Then, when Sammy moved to the Community Room, she loved sitting in the window box with Pixie. She later formed a fast friendship with Puzzle, and they would sit so close together they often looked like two cats melded together into one. If I paid attention to Sammy, Puzzle would nuzzle my hand. If I went to Puzzle first, Sammy would look offended and demand some petting. It was all good.
When Puzzle passed, we waited to see whether Sammy would or could find another close friend to bond with.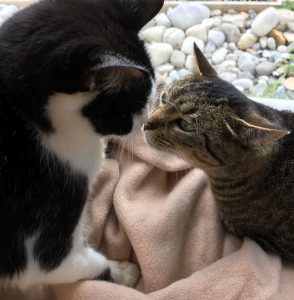 Through it all, Sammy has had the love and caring of all the staff and volunteers at Tabby's Place. With her beautiful face, her unusual six-toed paws and her sweet demeanor, she was hard to resist. And it's been the loving and the caring that helped Sammy come out of her shell.
How fitting it is that Sammy is now moving on to another phase of her life. And she's more than ready to have her very own family to dote on her. In living with a cat, you always get a lot more than you give.
If she could write, I know Sammy would want to wish you—despite all the craziness—a beautiful summer, and thank you, thank you, thank you for your generosity, which helped make her new life possible.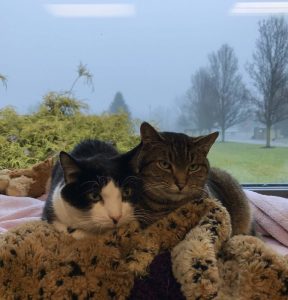 ---
Since Sammy has found a home to call her own, your sponsorship has been transferred to another Special Needs cat: charming Simon. Simon, pictured here, is an older orange gentleman with diabetes. He is relatively new to Tabby's Place, so you will be one of his first sponsors.
If you'd prefer to choose a different cat to sponsor, you can meet them all here. Please feel free to email us if you'd like to transfer your support to a different kitty. (Otherwise, going forward you will receive updates on Simon each month.)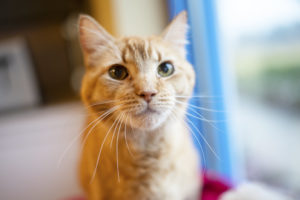 Thank you again for your kindness and generosity to Sammy. You've helped to make this marvelous news possible for her, and we're so grateful!