Dear Supporters of Sammy,
I have to be honest. I haven't seen Sammy in person in close to a month. I miss her and everyone at Tabby's Place.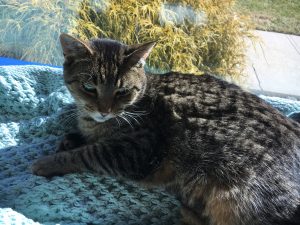 As a volunteer for fifteen years, I grew used to going every Monday and helping out. It became such a routine in my life that when Monday mornings roll around, I feel such a loss. I've been relying on the videos and photos from Karina and the gang who still work there to give me glimpses of the cats, especially Sammy.
I read all the reports and the news on Facebook, Instagram and in the Tabby's newsletter and relish learning about all their antics—their interaction with the toys, their cuddling up in their cat beds, the long walks they're taking outside with humans, of course, during the few nice days we've had so far. And, I have to admit, I flip through my old photos of Sammy.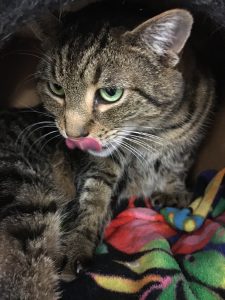 Meanwhile, like most New Jerseyans, I've been sheltering at home, wearing a mask whenever I go out to the grocery store, taking long walks in the park near my house, learning how to use Zoom to keep in contact with family and friends, and finding comfort with my three cats at home. Since Governor Murphy enacted the very wise stay at home order, I've been patiently waiting for the pandemic to be over.
I miss Sammy.
Lisa, who is my go-between from Tabby's Place, tells me that Sammy is continuing to cuddle in her usual haunts—dividing her time equally between her cat tree and the window box.  Here's a great photo of Sammy looking as cute as can be taken a few days ago.
She's also been spotted curled on one of the chairs under the conference table. I imagine Sammy in all these places very contented because I know the good people who are busily keeping this wonderful safe haven clean and all the kitties cared for are also doing much more petting than they usually do to make up for all the volunteers who are pouting at home!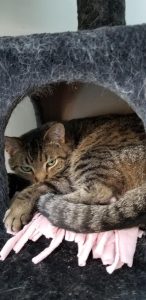 Recently, I read that a veterinarian said that cats only meow for people. They use their cat language to communicate with people and not with each other. Although I've lived with cats for years, I never realized that fact. In the last few days, I've paid particular attention to my three cats at home, and sure enough, they meow at me—for food, snacks, to be picked up—but they seem to communicate with each other using some other secret language. I talk to them, and they meow back to me.
I miss Sammy's meow and the way her eyes blink down slowly when she's looking at me when I was petting her. I always assumed that meant she was happy and feeling good.
Well, as always, Sammy and I thank you for your continued generous support of Tabby's Place. Now, more than ever, this wonderful place can use any donation, large or small, that you can give.
Stay safe and enjoy the spring.
Your correspondent,
Kate