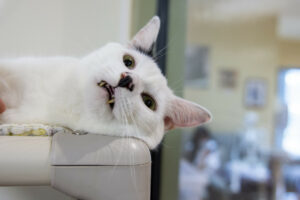 Dearest sponsors,
Elliot has left the building.
Rub your eyes. You read that right. This is not a drill.
Elliot, our Elliot, the one-and-only Elliot, has been adopted.
We waited for this day. We confidently expected this day. We wanted this day.
We did want this day, didn't we?
You can't blame me for having to remind myself of that, can you?
If there's anything that turns us a smidge selfish at Tabby's Place, it's the adoption of an extraordinary cat. Of course, they are all extraordinary, and each one is someone's favorite.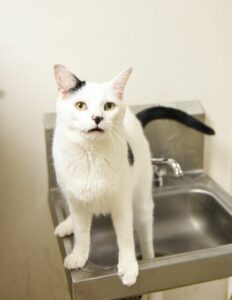 But Elliot was everyone's favorite.
Maybe that's because he made us all feel like his favorite…and he meant it.
In Elliot's heart, the title of #1 Coolest Awesomest Prettiest Handsomest Funnest Sparkliest Friend can be shared infinitely. He just can't help it. When he meets you, he loves you so much, he has to fling a gold medal around your neck, in the form of his own exuberant self.
Exuberant, ebullient, effervescent, Elliot is existence itself at its highest, happiest volume. White-hot with a fire in his belly and a heart warm enough to thaw Antarctica, he is aliveness at its liveliest.
Elliot knows life is not a drill. Elliot knows THIS is the day of days, and tomorrow gets to do it all over again. Elliot is elated, excited, infatuated with you and me and the mysterious, merciful life we get to share.
Elliot is a LOT of cat.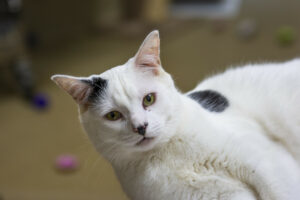 Elliot got a LOT of love. And yet, somehow, he always gave more.
Elliot's mighty muchness was not just for his human best friends. Over and over again, we saw him blaze a trail for more timid types, befriending the bewildered until they learned how to shine their own lights. A pied piper with pinwheel-eyes, Suite B's busiest boy made everyone feel a little more alive, a little more at home in the world, and a lot more loved.
To be honest, we wanted a lot more Elliot-time. And, given his gastrointestinal festivities, we assumed we would have it.
But as luck would have it — and something far greater than luck — Elliot had, in fact, chosen a BEST best friend. Of all his true-blue buddies, our winter-white cat had a favorite…and a plan.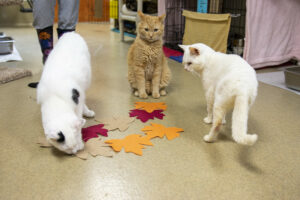 There was a LOT to do. Elliot had to convince his BEST best friend that they belonged together, forever. This was not a drill. This was showtime. Somehow Elliot found a way to crank up his infinite zest, maximizing his muchness.
His BEST best friend never stood a chance.
And so it came to pass that one of our beloved volunteers, L.S., found himself fully "Elliotted." Unable to say no to the cat who is a living, breathing "YES!", L.S. opened his heart…and proceeded to break all of ours.
In the best possible way.
In a bountiful bonus, Elliot is going home to his old buddy Bisque, another snowy sweetheart who stole L.S.'s heart. These Suite B alumni/ae will carry on their happiest hijinks in a home called "forever."
It's all so right for the cat who never felt sorry for the things he had "wrong." So, he has some bathroom follies. So, he moves at a higher vibration than 98% of living beings. So, he overwhelms certain feline underachievers (who he never, ever, ever tired of encouraging).
So, he is also the kindest creature this side of Mr. Rogers.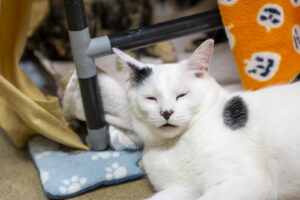 So, he is also everyone's "hype-man," the living embodiment of the empowering music you listen to in the car on the way to an important meeting.
So, he is also the snowball-goofball who made our days perpetual springtimes.
So, he is also a song we'll keep singing even though he's left the building. Because that's the thing about a friend like Elliot: even if he has to leave you, he leaves you changed, charmed, charged with a mission to make the world a little more magical, merciful, and mirthful.
I hope you'll join me in taking up the Elliot Challenge. Having been loved SO loud and so large, we now get to "Elliot" everyone around us.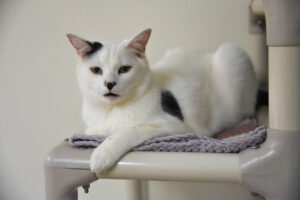 Can you imagine what this world would be like if everyone had the chance to be "Ellioted"?
Can you imagine any greater way to celebrate Elliot's adoption than by making someone feel like your very favorite?
Can you remind me, when I walk into Suite B and miss the sweetest boy, that we're really, genuinely happy that Elliot has been adopted?
Of course, dear sponsors, we are. And of course, it's only thanks to you that this dazzling day has come.
The best is yet to come for the brilliant little cat with the biggest heart under the sun. Thank you for loving him just as much as he loves you. Your generosity was his jet-pack to the greatest joy of all…and you are, forever and ever, his favorite!
With love and gratitude, your guest correspondent,
Angela (Tabby's Place Development Director, and co-president of the 900,000,000,000,000-member Elliot Fan Club)
* * *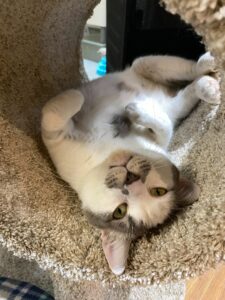 Since Elliot has found his forever home, your sponsorship has been transferred to another Special Needs cat in need: happy-go-lucky Hips (pictured at left). Like Elliot, Hips is a glorious goofball, determined to deliver joy to everyone he meets despite his own hardships. He's grateful to be your new sponsoree, and we think his kindred spirit Elliot would approve. Your friend Mary Anne will be writing for Hips, too! You can read more about Hips here.
But if you'd prefer to choose a different cat to sponsor, you can meet them all here. Please feel free to email us if you'd like to transfer your support to a different kitty. (Otherwise, going forward you will receive updates on Hips each month.)
Thank you for your fabulous generosity to Elliot and all of our Special Needs cats!