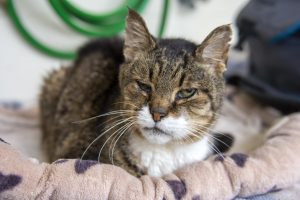 Dear Sponsors of Cisco,
As you likely know, we have been watching our FIV+ boy very closely, as he has been in advanced stage renal failure for quite some time. I am sorry to say that this morning, November 6, 2019, our dear boy crossed the Rainbow Bridge while resting peacefully in one of the FIV solarium igloos. It was just as Cisco would have wanted. He did not suffer; he simply faded and moved on to be free with the many friends who went before him. I can only imagine that Charlie and Amos were waiting to greet him.
Despite the onset of much colder weather, Cisco insisted on remaining in the fresh air. On numerous occasions, the staff had discussed our concerns about him being too cold outside. However, all attempts to carry him indoors were met with agitation on his part. What made Cisco the happiest in his last months was to enjoy the fresh air from a low perch or an igloo. He knew how to find the warm spots, and everyone else, human and feline, made sure to accommodate him. Just a few weeks ago, a staff member caught him breakfasting in bed (see photo).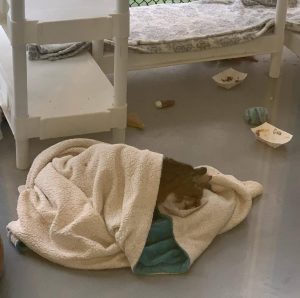 In saying good-bye to this dear boy, I would like to share a few memories with you. When I began working at Tabby's Place, Cisco was still very nervous around people. He did not enjoy being touched. There were many times when he had to be held for medical checks, and, as soon as you would look at him, he would begin to pee. He would continue peeing for a very, very long time. I really couldn't believe that a cat could hold that much. But I also remember the very first time I held him and he didn't release his bladder in fear. It was the start of a transformation for Cisco, and the start of my attachment to him.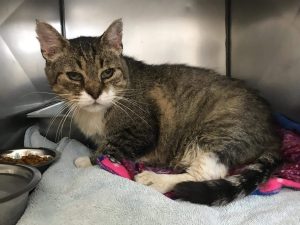 Around the same time, a team member and I discovered that Cisco enjoyed being brushed. That first grooming session produced so much hair that we decided to put it on the scale to weigh. It was less than half a pound of fur, but impressive nevertheless. Cisco also spent a decent amount of time in Ringworm quarantine. Oddly enough, he actually seemed to enjoy being crated for these weeks. These episodes did wonders for his socialization. The Cisco that emerged from Ringworm the last time was the calm and gentle Cisco that we knew going forward.
The FIV+ Suite will not be the same without its resident old man. Every cat in the suite showed Cisco respect–no one gave him a hard time. In his last months, I was touched that even the big tough guys, like Rufus or Liam, would look out for Cisco. He was loved by his fellow felines and all of us. Rest in peace handsome boy, and run free in the fresh air.
Your guest correspondent,
Lisa
Note: Since dear Cisco has passed away, we have transferred your sponsorship to another cat in need: Cisco's FIV+ pal, Rufus. You can read about Rufus here, and catch up on his past updates here.
If you prefer, you can select a different Special Needs cat to sponsor. Click here to meet all our Special Needs cats, and contact us by email if you'd like to transfer your sponsorship. Otherwise, you will receive updates on Rufus each month going forward. As always, your generous support will go where it's most needed.
Thank you for your love and generosity to Cisco. The Tabby's Place cats are deeply fortunate to have you in their lives.