Greetings Cisco sponsors,
Our dear Cisco is holding on like a champ. As in recent months, he spends most of his time in the solarium. He has been more and more open to receiving love and adoration recently, but he really surprised me when he came over to meet me at the door! Cisco is actively seeking interaction and affection, and we are so grateful that he is letting us lavish him with as much as he desires.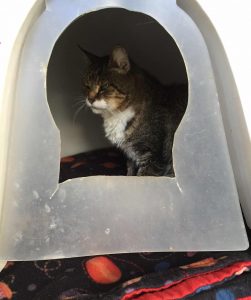 The FIV+ Suite continues to empty out. Tennison was adopted this month and a new FIV+ female named Norah moved in. She is still crated and awaiting a retest. It will be interesting to see if the dynamics shift with some female energy.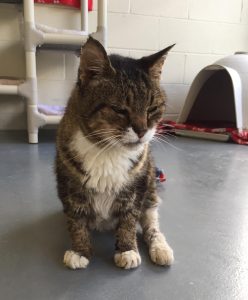 In contrast to how frightened Cisco was when he came to us, he now really does enjoy being petted. This is especially appreciated when he receives his fluids twice a day. One morning this month he had just begun to receive his fluids when, outside the solarium, a lawnmower came roaring by. I was concerned that Cisco would scare and flee, but he just looked up at me while I vigorously scratched his cheeks and chin as if to say, "It's okay, right? You'll keep petting me and keep me safe?" We absolutely intend to shower him with love and keep him safe for as long as he can stay strong and keep fighting.
Cisco's appetite is good. He looks forward to his liquid chicken treats while his jealous suitemates Shea, Oscar, and Rufus all vie for his leftovers. Rufus seems to look out for Cisco these days and has even come and curled up beside him while his fluids are being given. Aww, how sweet is that!
Dearest sponsors, you are the best gift that Cisco has ever received. He is getting oodles of love and the finest medical care possible, thanks to you. Your steadfast support has given him the best life possible.  Please keep him in your thoughts and prayers.
Your correspondent,
Donna