Greetings Yardley sponsors,
I hope you are doing well and staying safe during these times.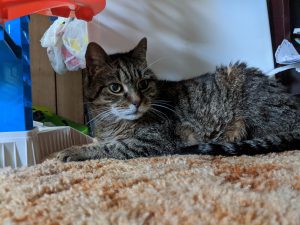 Yardley is doing fantastic. She is eating well. She did let us know that she prefers the chunky Fancy Feast brand cat food over the pate. She will eat the pate, but she will devour the chunky food. She will not starve herself over pate, but I should probably get some more chunky food before we run out!
Yardley's food, water, and litter box are in my younger son's room. Yardley eats there and sleeps there at night, but during the day she has her other favorite lounging spots. For almost a year, she exclusively spent her days in my older son's room. She really enjoyed his pile of stuffed animals where she could blend in. Sometimes she liked to nap in his closet. It would take me forever to find her in there! Imagine a dark closet, filled with stuffed animals, and trying to find a live cat. Yardley blended in well!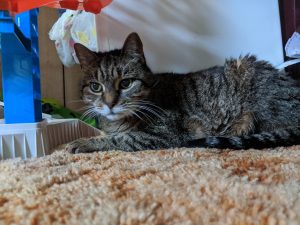 Recently Yardley has been spending her days in the playroom. She likes to lie in a certain spot on the carpet, next to the bookshelf and the Ultimate Garage Toy.  There is a sunbeam in that area. Maybe that has something to do with it. My older son's room is turning into a dark cave as he gets closer to becoming a teenager, whereas the playroom has two windows with sun spilling in.
Yardley is due for her quarterly blood work this month. As of now, she only needs to get blood work every 3 months. This is a huge improvement from the monthly blood work she needed. Next month I will have results for you.
Thanks for continuing to sponsor Yardley, especially during these uncertain times. We could not do this without you.
Your correspondent,
Jess