Hello, my sweet sponsor,
Hope that you are well and enjoying the last weeks of winter.  There are lots of stories coming your way…
I would like to introduce you to my new correspondents, Sandi and Don.  They have been volunteering with Tabby's Place for ten years. For nearly six years, they wrote monthly updates for my dear friend and former suitemate, Mona, until she was adopted.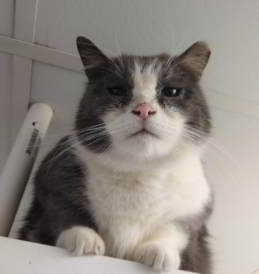 There has been much excitement in our suite.  Rogue was adopted and is now in her new loving home!  We miss her feisty personality and wild hairstyles, but we are excited by the wonderful news!
We have been enjoying mellower moments these days.  Knickers, who has had some trouble adjusting in our suite, has been spending time in a private room where staff and volunteers can work with him one-on-one, or in a cage in our space.  We all hope that Knickers will learn to be more trusting and that we mean him no harm.  It can be difficult for any cat to live in a room with many felines.  The folks at Tabby's Place have been very successful in helping cats become good neighbors, but it does take time and patience.
They continue to work with my friend Rufus, another rough-and-tumble boy. Since removing Knickers from the room, Rufus has generally been happy to coexist peacefully with his roommates and bathe in the affection of his human admirers.
You might have heard that Lester has had chronic tummy problems, but this month he has some good looking stools.  Hurrah! Meanwhile, sweet Cisco's diabetes has been especially difficult to control this month, so they are monitoring him very closely.
For a long time now, the staff at Tabby's Place has been encouraging me to lose weight.  But, no matter what special diets and modifications they've tried, I have always been ravenous and prone to weight gain. But recently, I began eating less and started losing weight. Extensive blood work and X-rays showed nothing out of the ordinary, but our vet team did detect a heart murmur for the first time. An ultrasound confirmed a mild case of hypertrophic cardiomyopathy (HCM), the most common form of heart disease in cats. Fortunately, my case does not require any medical intervention yet. They will follow up with an echocardiogram for me every six months.  They'll be repeating my blood work soon and re-weighing me often.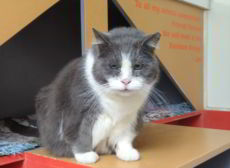 What else has Tabby's Place been doing this year?  This winter, a team of rescuers from Lebanon reached out to Tabby's Place about a paraplegic kitten named Chocolate. In a post-war country, options for this little one were limited. Our staff was grateful to be able to help, and so in February, they welcomed Chocolate and fellow Lebanese kitties Honey, Marble, Cinnamon, Lotus, and Abby. They also shipped much-needed supplies to the Lebanese rescue from which the cats came.
The Tabby's Place family is truly international!  And you know what?  You are an important part of the Tabby's Place family, and all this life-saving work could not happen without you, dear sponsor.  Thank you from the bottom of our hearts!
Wishing you a happy and healthy spring, a time of new beginnings.  Until next month, take care and be well.
Xoxox,
Wolfie
(with help from your correspondents, Sandi and Don)