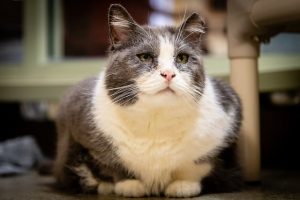 We always believed this day would come.
Still, we can hardly believe this day has come.
Wolfie has been adopted!
Dear sponsors, I imagine you're feeling the same blend of delight and disbelief as we are at Tabby's Place today.
On one hand, we always knew that Wolfie was an extraordinary cat, deeply deserving of a home and family of his own. We'd sing his praises to everyone who would listen; we were always his champions and cheerleaders. His gentle spirit; his goofball giddiness; his endlessly hilarious poses; the intense, unforgettable way he gave his friendship and his heart to cats and people alike…surely some wise person would see what we saw and love him as we loved him.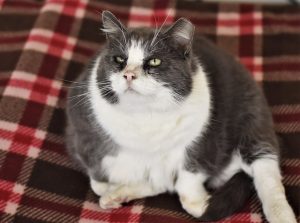 And yet, as the years romped by, it became increasingly taken-for-granted that Wolfie was here. No one ever said the word "lifer," but at times it felt inevitable that Wolfie would be with us for all of his days.
To be honest, that was a very comfortable feeling for us. The bond each of us shares with Wolfie is so enormous, it would be just fine if he decided to spend the rest of his life at Tabby's Place.
But happiness had other plans for our walrus-y Wolfman, and we couldn't be happier for him…even if we're grinning through gleeful tears.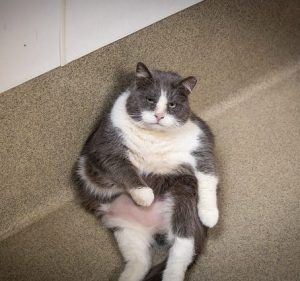 As suits our beloved boy, Wolfie's adoption is a love story for the ages. It's also been ages in the making. A little girl in Connecticut has had her heart set on Wolfie across the miles for years. She and her family have cared for numerous Special Needs pets, and something in this young girl's heart just knew that Wolfie was "the one" she was meant to cherish next.
But the timing was never quite right, so Wolfie's young admirer simply yearned, exchanged emails with our staff, and adored him across the miles. She and her family kept tabs on his growing list of medical issues, undaunted by his needs, but waiting until their Wolfie-wonderful moment bloomed in full.
Well, dear sponsors, spring has sprung, and Wolfie's joy has blossomed big-time. This past weekend, Wolfie's forever family came to Tabby's Place…and today, he's thriving in his forever home!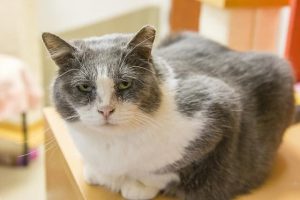 It's a beautiful home — an estate, really — where Wolfie's family also nurtures other cats, dogs, donkeys and even a pig. Wolfie, however, will be the only pet in the little girl's "house" on the property. As you know so well, that's the kind of one-on-one adoration he deserves.
Think about it: our wonderful Wolfie has literally gone from a federal prison to a Connecticut estate. Along the way, he's needed heroic medical care and boundless love, patience and tenderness. And it's you who have given that to him, in abundance, as he's awaited his golden moment.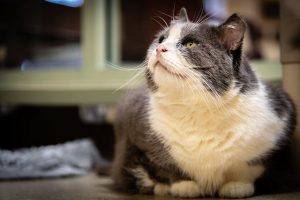 Beloved sponsors, I can't begin to thank you enough for making this possible. You are, now and forever, Wolfie's truest heroes and champions. We love you forever!
And now, the happy official stuff: Since Wolfie has been adopted, your sponsorship has been transferred to another Special Needs cat: Wolfie's FIV+ suitemate, Rufus. You can meet Rufus here, and catch up on his past updates here.
But, if you'd prefer to choose a different cat to sponsor, you can meet them all here. Please feel free to email us if you'd like to transfer your support to a different kitty. (Otherwise, going forward you will receive updates on Rufus each month.)
Thank you again, generous friends. Wolfie is forever blessed to have been "yours!"
Your correspondent,
Angela