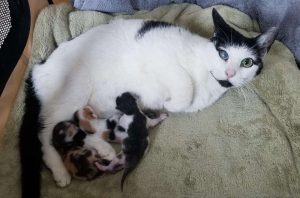 Happy October, community cat champs.
I hope all is warm, wonderful and sweeter than a planet-sized pumpkin pie in your world.
It's been a sweet and spicy month for the TNR cats of Tabby's Place. Fortunately, your generosity is helping us to keep things slanted towards "treats" rather than "tricks."
First, let's revisit some old friends. Remember beautiful mama Ida, the older-than-average mother cat who lost two of her five kittens? Well, her three tiny survivors — Agata, Artur and Marysia — all grew up to be strong and ridiculously adorable, and so they were unsurprisingly adopted. Nowadays, all eyes are on Ida herself, and we're counting the days 'til this selfless mama is adopted.
Speaking of eyes, you're not seeing things; Ida is a little bit cross-eyed. But, her vision is clear and her heart is as big as the sky. In the book of Ida's life, we have a feeling "mothering" was a very long chapter, with many little ones blooming in her care over the years. But Agata and company would be her last litter, and now it's Ida's turn to taste a bit of kittenhood herself. We're collectively smitten, and Ida loves being mooshed nearly as much as we love mooshing her, so it's a daily lovefest of delight.
Well, almost. After all those years of self-sacrifice and saintly mothering, Ida has decided she now wants to be an only child. That's a bit of a challenge when you live at a cat sanctuary, so we've had to go slowly in introducing Ida to her fifteen-or-so suitemates in Suite B. Fortunately, there seems to be peace in the valley at the moment, so long as we distract Ida from her "rivals" with our endless affection.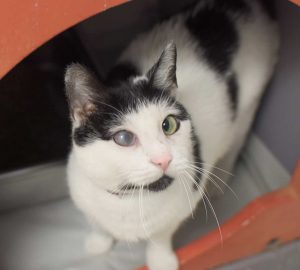 And let's not kid ourselves here: Ida's going to get adopted in no time, don't you think?
Meanwhile, down the hall in the Community Room, Claire is finding her footing. As you'll recall, Claire came to us from a loved and well-managed cat colony when she suddenly became both blind and friendly. We're committed to every cat in our TNR program for life, so we eagerly embraced her into the sanctuary. (If one of our colony cats develops a serious medical condition — or becomes so gregarious that we think they'd do better indoors — they make the move to Tabby's Place.)
But Claire's case has confounded us all. Our vet team could find no cause for her blindness, but treated her with antibiotics on the chance that an infection could be involved. In the two months since her arrival, Claire has unquestionably regained a good deal of vision, though still short of 100%. She's also lost, then regained, that startling, sudden friendliness. Living outdoors, Claire was a classic "feral cat," showing up only for food and shunning affection. When she first lost her vision, she became near-snuggly, which was immediate cause for concern. As she settled in with us, she became angry and fearful — as we'd expect from a true feral — only to rethink the situation. At this point, Claire is cautious but open to our attention, of which she's getting lots living in our largest office space. The Community Room is also ideal for Claire from a medical standpoint; since it's where most of our team has their desk space, our staff can monitor Claire throughout the day, assessing her vision and overall well-being.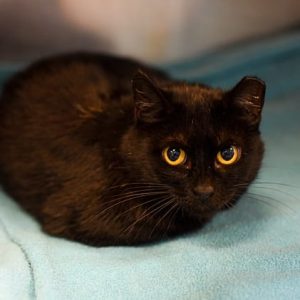 Come what may, Claire will always have everything she needs — including all the love she can stand.
As for new TNR news, there's rarely a dull moment. This past month, we conducted TNR on eight adult cats here in Ringoes, all of whom happily returned to their colonies. Friendly Norah, Etta and James came to Tabby's Place for good, since they were free-roaming but not feral.
More on those brave wanderers next month. In the meantime, thank you for your phenomenal generosity, Team TNR. We couldn't do these labors of love without you!