Happy autumn, dear sponsors.
OK, I'm technically jumping the gun a smidge, autumn beginning on 9/21 and all. But it's "meterological autumn," and I have a feeling you might be just as excited as I am for the season of sweaters and sweet coffee and snuggly weather.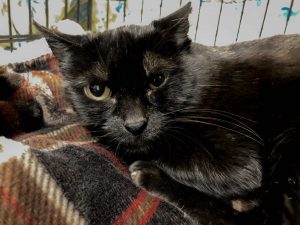 As in all seasons, we enter autumn all excited about free-roaming felines. Our "master trapper" just conducted a successful TNR project on a small family of feral cats right in our neighborhood. The feisty mama cat has had her last litter — and they've been neutered and returned to their safe, happy outdoor home, too, as they're nearly adults now, too.
But the community cat of greatest concern is, of course, our friend Claire. As you'll recall from August, Claire was a well-loved, cared for cat in a managed colony we had already TNR'd. Her perplexed caretaker brought Claire to us when Claire suddenly became both blind and friendly. Extremely friendly.
We've run every test in the book, and we remain mystified as to the cause of Claire's blindness. We've been treating her with antibiotics, though, and she has definitely regained a good bit of vision. It's been difficult to evaluate just how much, however.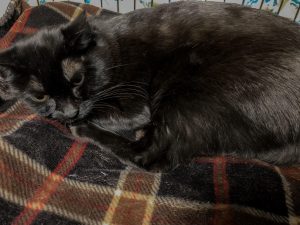 That's because Claire has also regained a good bit of…well, "feralness." After her brief experiment with being sweet and snuggly while blind, she is again completely resistant to our attention and affection, and she'll put up a good fight if we try to examine her.
Claire's caretaker is more than happy to have her back…but, of course, only if Claire's vision is strong enough that outdoor life will be safe for her. Today, we're moving Claire into her own "private suite" — our hospital exam room — where she can roam freely without the interference of other cats or humans. We can thoroughly evaluate how well she sees and gets around, so we can make the decision that's in her best interest.
If Claire loathes indoor life — and human attention — we want to return her to her happy outdoor world. But if that's not in her best interest because of her vision, we'll find a way to make her as happy, healthy, and comfortable as possible at Tabby's Place.
Thanks to you, we're able to do that for every cat in our care, however complicated. We cherish them all, and, dear sponsors, I cherish you, too. Thank you for your love and generosity, and happy, happy autumn!