Happy November, Team TNR.
I hope this month's missive finds you warm, cozy, and overflowing with reasons to give thanks. Know that we are all giving gigantic thanks for you at Tabby's Place, now more than ever.
As temperatures tumble, we're especially grateful to be able to help free-roaming kitties. Our volunteers are hard at work winterizing our cat colonies' shelters with fresh straw, setting up heated water bowls, and nurturing all the needs of our beloved community cats. Thank you for making this quiet, life-saving day-to-day work possible!
Of course, a slew of special cats extend their personal thanks to you, too. Last month's brave mama, Ida, continues to flourish at Tabby's Place. With all of her kittens adopted, she's taking full advantage of the opportunity to shine, and she's become a total ham for affection in Suite B. Raising litter after litter of kittens outdoors, Ida never really had the chance to be a kitten herself; she's making up for lost time today, playing exuberantly and loving with all her might. We know this cross-eyed cutie will be adopted before long.
Down the hall, our dear friend Claire is learning…well, to be a friend. We moved Claire to the Community Room, where several staff members have their office space. This would offer Claire the best chance at consistent socialization, while also giving our team time to evaluate Claire's vision. We're still not quite certain about that — she is clearly not totally blind, but she doesn't see perfectly — but Claire's spirit is coming into focus. As she feels increasingly at home with us, Claire is playing, prancing, and tentatively letting us love her more and more each week. She's also buddied up with her feline neighbors. For some reason, Claire is especially excited to (attempt to) play with June, who is less sure about the whole prospect.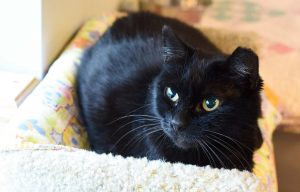 Out in the field, we received word that one of our colony cats was limping badly. Ronnie, who we'd first TNR'd nearly three years ago, was now unable to bear weight on his right front leg. Thanks to you, we're able to provide our feral kitties with all the medical care they need, right when they need it, so we scooped Ronnie up right away. Our vet team conducted X-rays and found no broken bones, but Ronnie did have an abscess. We treated this, and also extracted a painful fractured tooth and its root.
Somewhere along the way, once-feral Ronnie decided to give human friendship a try. To our surprise and delight, the cat who formerly fled and snapped at us turned into a sweetheart, giving and receiving cuddles and showing us his adorable extra toes. Given his temperament turnabout, Ronnie won't be returning to his colony after all, but living the indoor life at Tabby's Place — and, we predict, a forever home.
Indoors or out, Tabby's Place cats are cherished. That's only possible because of you, dear sponsors. In a few weeks, as we all gather with our dear ones to give thanks, I'll be thinking of you with boundless gratitude. Thank you for your life-saving love! I hope you have a blessed, beautiful Thanksgiving.
Your correspondent,
Angela