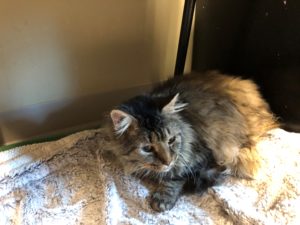 Dear Stafford Friends,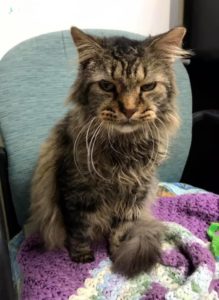 Will someone please tell me how it got to be December already? I have no idea, but a different month means it's time for an update on our gentle, shaggy boy.
Stafford has been doing nicely over the past four weeks. If you'll recall, his insulin dose was lowered last month, so naturally, we've been alert for possible problems. But there have not been any. He's eating well and appears to be feeling good.
Stafford and his two roommates usually co-exist peacefully, as each generally ignores the others. But our Executive Director has seen a couple of interactions between two of the cats, and those have begun and ended in an identical fashion.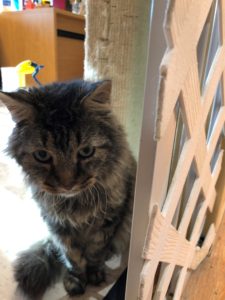 It seems that our Stafford was intrigued by something that roommate Shiny was eating. As you'd expect from a cat, Stafford decided he needed to try some of this food himself, purely, I'm sure, in the spirit of scientific inquiry. Shiny, however, was having none of it. In the words of one of our staff, Shiny has "a mean left hook" and showed no hesitation in using it to discourage Stafford. Fortunately, Stafford backed down quickly on both occasions.
Again, you must allow me to thank you for helping us help Stafford during such a difficult year; I can't express how much it means to me. Here's hoping your holidays will be bright and 2021 will be happy and healthy.
Your correspondent,
Stephanie