Dear Sponsors for Simon,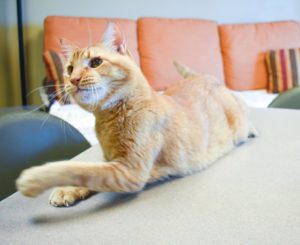 I've been a volunteer at Tabby's Place for over fifteen years, and sometimes even I can't believe I've been coming to this wonderful place for that long. I love the people and, of course, I love the cats. The work I do here isn't very glamorous, but one of the things that make volunteering here so enjoyable is that I write monthly updates for Simon, which gives me this extra sense of responsibility.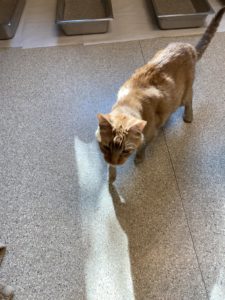 Usually, when I arrive, Simon is the first cat I see. And what a joy he is. He is so friendly and engaging that the moment I step into the room and call his name.  If he's not eating or hiding—ha, ha, ha—he magically appears and follows me around, wanting to be petted and made much of. He's a happy boy, and I marvel at how easily he's adjusted to this new environment.
This past Monday, when I came to visit Simon, I arrived with a mission. Simon and I were going to shoot a video. I initially thought—easy peasy—all I have to do is place my iPhone on the table, set it on record, and make sure that I stay in the frame. Make sure that I keep Simon in the frame. How difficult could it be?
Well, during the taping of the first video, I forgot to reverse the camera so I ended up videoing the other side of the room while Simon—the most perfect cat in the world—sat patiently beside me while I babbled on and on. When I realized my mistake, I reset the phone and redid my thank you. Simon behaved as if he'd been through the entire routine of shooting videos a thousand times.
He looked into the camera, smiled, and if he could have talked, I'm sure he would have been willing to share a story or two about his life before he came to Tabby's Place. As it was, he purred and appreciated the petting and the fact that he was the star of the show.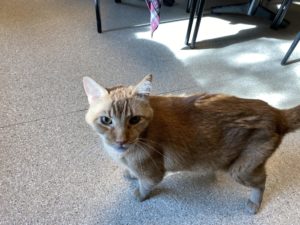 Which got me thinking—he would make a perfect star for a show all about cats!
Well, I'm getting ahead of myself. For now, he'll just have to be cute and adorable Simon. And for all his upbeat attitude, you'd never know that he was suffering from conjunctivitis with discharge. He needed both oral and eye medication. He's also suffering from what they call immature cataracts. Finally, he had a BG (blood glucose) curve done this month and his twice-daily insulin dose was increased. Nevertheless, none of this affected his eating. He loves to eat!! And have a good time!!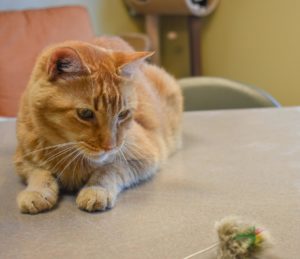 Thanks again for your continued support. Simon and I are both so grateful. As we move into this colder weather pattern, we hope you find ways to stay warm and snuggled and safe.
Your correspondent,
Kate