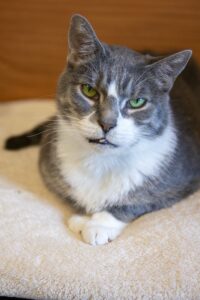 Hello, My Very Special Fans!
February is the month of love, not just here at Tabby's Place, but all over the United States!  It is the month that Cupid could strike the hearts of people everywhere and will sometimes choose unsuspecting recipients to be his messengers of love and devotion.
My Correspondent, Kim, was saddened by the loss of such a messenger this past week, with the passing of her neighbor who had lived next door for many years. That neighbor's marriage was a happy one; his children and grandchildren share that same kind of love and devotion in their own marriages.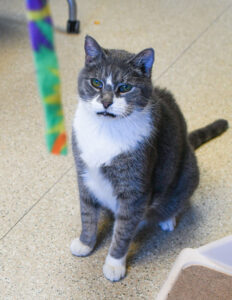 As difficult as it was to be an attendant of the final ceremonies that honored the passing of this kind gentleman, there was much joy in witnessing the love this family shared. Kim could not help but think of her old favorite line from the song My Funny Valentine: "You make me smile with my heart."
Is there anything more meaningful?
I feel that same smile through the love shared with us cats here at Tabby's Place. Not a day goes by that we are not the recipients of hugs, petting, and love pats. For many of us that came to Tabby's Place from the saddest of beginnings, our journey now is one of good care, understanding, and companionship. It is a journey we will no longer take alone, as we go side-by-side with those who adore us. We share days that are good ones; days that are not so good. Our final partings from Tabby's Place are with "sweet sorrow," and not a single cat that departs from Tabby's Place is ever forgotten. That fur baby's memory is cherished, celebrated, and honored by everyone that is a part of the Tabby's Place family.
We have had our share of sadness over the past few weeks here at Tabby's Place, with the loss of long-time residents Rose and Reese; shorter-term residents Possum and Allie. Kim has beautiful photos of Rose enjoying her rides outside with members of our Stroller Program; other volunteers have shared similar heartfelt memories of these cats at the sanctuary we call "home."
It has been said that "Home is where the heart is." It is where we share our small victories (i.e., my back issue this past month that turned out to be just a little soreness), and celebrate the retreat of bigger health obstacles. It is where we walk the walk together, side-by-side, as we take the journey into the unknowns of feline health and wellness. The cats will never take that walk alone here at Tabby's Place, where love abounds and YES, miracles still DO happen!
I thank you, my dearest sponsors, for your most generous gifts that allow me to continue my journey here at Tabby's Place, and I know you walk by my side each and every day in thought and prayer for my continued good health.
That, my friends, makes ME "smile with my heart."
Love,
Shifty
(With help from your correspondent, Kim)