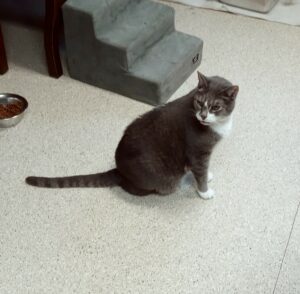 Hello, Fans of Shifty!
This past month has been a scurry of activity at Tabby's Place, full of changes for our dear fellow Shifty that he has taken in stride.  At one time in his life here with us, he may not have handled such changes as well as he does now.  I am proud of the progress Shifty has made from a social and emotional standpoint, as making adjustments to new things when you are a "senior gentleman" is not always easy.
Shifty gained two new roommates this past month.  One of the cats, Fenek, is crated for his safety and protection during this introduction period, and will gradually be allowed more freedom as time goes on.  However Baby, the second new roommate, is a rather large cat that has diabetic concerns like Shifty. His name is a bit of a "play on opposites," as Baby is anything but little!  In fact, Baby is so big, he makes Shifty look extra "svelte!"  So far, so good with these new roomies, and of course we will watch closely for any signs of discomfort from the new "gang."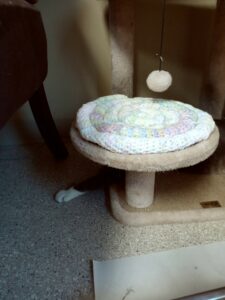 The gang was all in hiding the other day when I visited.  I wondered why Shifty would not come out to visit with me. Then I saw the little supplies tucked in a corner for later use:  the weight scale and nail trimmers.  It seems like once those supplies are spotted by the cats, they go into hiding!  I found Shifty behind the cat tree in the corner of the room, pretending not to hear me so he would not have to have his nails trimmed.  I coaxed and I called; he was having none of it.  But I had to laugh when he stuck a foot out from behind the cat tree (see photo for your enjoyment).  Was it a wave? Was he trying to tell me he understood what was coming, with that one paw out?  Did he know I was there and wanted me to keep quiet about his whereabouts?  Once our wonderful staff member, Rebecca, came in to begin her procedures, I knew he would never come out.  Rebecca and I chuckled together about that beautiful holiday blanket I had chosen for his photos that day, hoping to get a really nice picture.  He surely was not cooperative THAT day!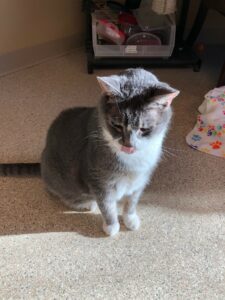 Shifty has been blessed with good health again this month.  His spirits are good, and he is receptive to all who stop to visit with him.  He enjoys watching the activity outdoors from either the cat tree or sunny windowsills.  I thought of the old song "Silver and Gold" by Burl Ives when I saw his silver self sitting under a gold holiday ribbon, waiting for me to greet him the other day. I sang that song to him, and to myself the rest of the day!
I thank you for the pleasure of bringing you Shifty's news this year. In a year full of challenges, your continued love, care, and support are especially moving.
On behalf of Shifty and everyone here at Tabby's Place, I wish you the most joyful of holiday seasons!
Your Correspondent,
Kim