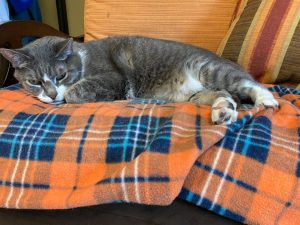 Hello, my dearest fans!
Shifty here, putting pen to paw again this month to write my own update.  My correspondent, Kim, likes to give me the chance to speak for myself.  This is probably a wise choice this month, as Tabby's Place remains on a restrictive COVID-19 visitation protocol.  This is for the protection of all humans who love the cats of Tabby's Place.  We cats miss our human friends and look forward to the day when they can return to visit with us.
I am happy to report that I remain in good health.  I am feeling well and doing just fine.  The highlight of my day is meal time; cat AND human!  I am used to spending lunchtime with the staff here at Tabby's Place. However, the staff has moved their lunch break to enjoy the outdoors on occasional nice days and to maintain social distancing.  I am used to going around to each person, asking for a little head-pat and cat treat.  Now, I make sure that later in the day when staff members are in the Employee/Volunteer Lounge that I call "home," that they do not forget my cat treats.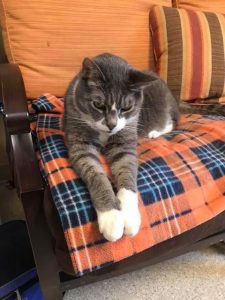 I have been taking my siestas on a nice plaid blanket that is across the sofa in the Lounge.  It may have been put there particularly for MY comfort, and I surely do not want to disappoint anyone.  It is soft, cozy, and suits me well.  I will need my beauty sleep to rest up for the return of the volunteers, who I know will all flock to give me their love and attention.  Especially KIM!!
It is quiet here these days at Tabby's Place.  Quiet is restorative, especially for the cats that have come from traumatic situations or noisy animal shelters.  I think of these cats often and hope that they find the peace and serenity healing and comforting.  It is important to mend not just their bodies, but their souls, too.  They, too, will then be more ready for the return of the volunteers.
The Return of the Volunteers: does that sound like a movie? A good short story?  I think we cats should videotape from our picture windows the day the restrictive ban is lifted.  Who will get here first? How many of them?  I know the staff of Tabby's Place will help to guide them so as not to overwhelm us. We will be SO glad to see them!  But as we anxiously await the day when they can all come back and Tabby's Place can be back to normal again, there will also be a correct procedure which we must all honor.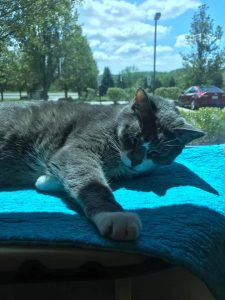 With all paws crossed here in prayer for the safety and protection of all we love, we thank YOU, dearest sponsors, for your most gracious gifts that keep us going in the most difficult of times.  Our needs are many; we ask nothing in return but your love and devotion.
As I lay down my (handsome!) head at night, I know I am one of the luckiest cats in the world. I have that love; I have that devotion.
Thank you for loving me, and my feline friends here at Tabby's Place.  I hope to see you soon!
Shifty
(With help from my correspondent Kim)