Greetings PBG sponsors!
Hope everyone's summer is going well. We turned the air conditioning on. It is quite hot here!
Princess Bubblegum and all of the cats were enjoying lounging in the windows but we caved and turned the AC on. They seem to be adjusting well to the closed windows!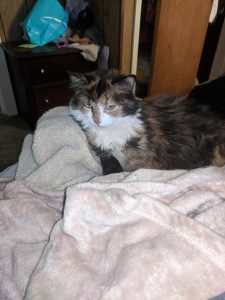 Princess Bubblegum is doing well. She is being super picky with her food. She is one of those cats that seems to like a flavor, then she completely denies its existence. One day she will completely devour Oceanwhite fish. The next day she turns her nose up.
We crate her to eat her food with her Creon (pancreatic enzyme) and Aluminum Hydroxide (her phosphate binder). I only give her a small amount of food to make sure she eats her meds. After about a half hour, we let her out. Sometimes she eats her food, sometimes she does not. Either way, every time we let her out, she goes around and eats everyone else's food. Sometimes it is the same exact food as the food she just turned her nose up at. I do not understand.
She is eating enough of her food and meds to keep her weight up and stool good. I will keep on trying different foods and see if I figure cats out. I think the cats are winning.
Other than the pickiness, Princess Bubblegum is doing well. She seems to have found a new spot at the end of my bed. It is nice waking her and petting her before starting my nonstop day. She is a real sweetheart when she wants to be.
Thanks for sponsoring Princess Bubblegum.  Please tell her telepathically to eat her food. Thank you!
Your correspondent,
Jess