Greetings, Princess Bubblegum sponsors!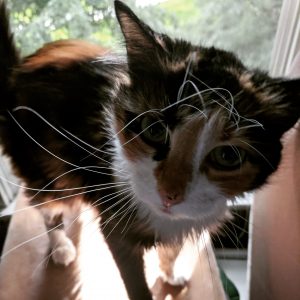 Hope you are enjoying this lovely weather. Our cats sure have been enjoying it. All of our windows are open. It is safe to say that there is a cat in every window. Well, almost.
We did get a new cat tree in front of one of the windows. Princess Bubblegum has been spending much of her time on it, enjoying the fresh air. Here is a picture of her on this tree.
She has been doing well. She is okay hanging out with the other cats, but she does not care too much for them.
Our new forever foster, Yardley has mostly kept to herself as well. She generally stays in my younger son's room. I will leave the door open sometimes, but the cats do not wish to co-mingle. That is okay with us!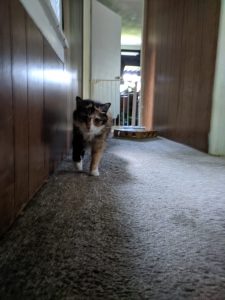 Princess Bubblegum likes to hang out at the top of the stairs. If I am walking up or down the stairs, she tries to play with my hair. She tries to lick my hair. She smashes her head into my head, which is very cute. This is a new fun habit for her.
We had a housewarming party last week, but Princess Bubblegum didn't seem to notice.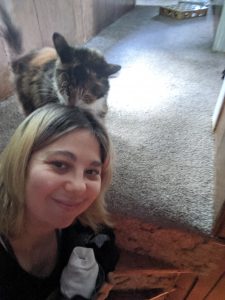 She snoozed in a laundry basket the whole time. A few people petted her. She obliged but did not really care. I'm just glad she wasn't too scared or bothered by the whole thing. Our other cats, Yardley and Mariska, gladly rolled over for pets multiple times. Those two really enjoyed the party!
Princess Bubblegum continues to do great. Thank you for sponsoring her and helping her live her amazing life. We could not do this without you.
Your correspondent,
Jess