Greetings, Princess Bubblegum Sponsors!
I hope you are doing well!
Life is good and normal for Princess Bubblegum. She eats most of her food in her crate. Then she comes out and eats everyone else's food. She is being friendly. She is being playful. All is good. No changes needed. At least, that is what PBG thinks.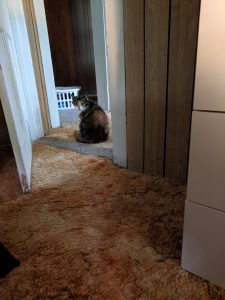 At Tabby's Place, we have a cat named Yardley. She was found by a wonderful family who had previously adopted from us. This family was going to keep Yardley, but they took her to the vet and had bloodwork run. The bloodwork showed that Yardley was diabetic and would require insulin. This was too big of an expense for the family. They called Tabby's Place, and fortunately, we were able to accept Yardley into the Tabby's Place family.
Yardley is a sweet brown tabby, estimated about 10 years old. Her diabetes was well-regulated with insulin twice per day. Yardley was moved to the lounge at Tabby's Place, with our other diabetic cats. We then found out how much Yardley despised the other cats. She was never the aggressor, but would always hiss and hide when she saw them. She was offended by the mere presence of other cats.
After a couple of weeks in the lounge, Yardley stopped eating and started having horrible diarrhea. We had hoped her condition was just from being stressed by the other cats, but this was a bad situation. She lost almost 2 pounds in two weeks. A full workup revealed that Yardley had a really bad cancer called multiple myeloma and EPI, exocrine pancreatic insufficiency. As you know, EPI also afflicts Princess Bubblegum.
Multiple myeloma is quite rare in cats. EPI is rare too.  We started treating for the EPI, and Yardley responding beautifully. She started eating better, having normal poop, and gaining weight! Yardley had Creon added to her food (just like Princess Bubblegum). She was also given medications for nausea and diarrhea, as well as weekly B12 injections (to help her absorb vitamins) She was doing so well that we wondered if she really did have multiple myeloma.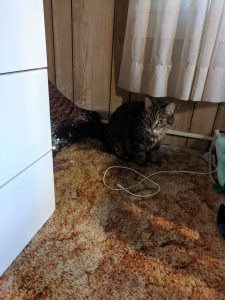 Yardley visited two different specialty veterinarians, one focused on internal medicine and one focused on oncology, who ran a few more tests. She did, in fact, have EPI, and it looked like she had the early stages of multiple myeloma. In cats, you do not usually see the early stages of this cancer. Cats do not always show that they are sick until they are very sick, so catching multiple myeloma early is rare in cats.
It looks like the onset of EPI is what helped us to help Yardley early on in this process. The oncologist thinks that Yardley has about 6 months to a year. She started her on a chemotherapy drug that has been very helpful when you catch this cancer early. When cats are sicker, this type of chemotherapy may cause more harm than good. Yardley is doing great right now, which gives the chemotherapy drug a better chance of making her feel better.
During all this treatment, Yardley had been in a cage in the hospital area at Tabby's Place. It was not fair to her, but at Tabby's Place, it is hard to house a cat with EPI due to the diet. In my house, we were already doing this with Princess Bubblegum. We moved a little over a month ago, which gave us more space. I offered to be a forever foster family to Yardley.
We moved Yardley into my son's bedroom and kept the other cats out. The other cats were very interested in meeting Yardley. Yardley, not so much. Any time a cat got past us humans and got into Yardley's room, Yardley would hiss and bop them. The other cat would run. No big fights, just hissing and a little bopping.
Princess Bubblegum does not seem to care about the new addition. She is curious but otherwise indifferent. She snuck into Yardley's room this morning and sniffed her food. Yardley hissed at PBG without even getting up. PBG left. The pictures are from right after their stand-off.
I hope that eventually, Yardley will be okay to walk around the whole house and at least ignore the others, as Princess Bubblegum does. If not, that is okay. She can have her bedroom. She does let my son sleep in there. That is very nice of her.
Princess Bubblegum may not think we needed another cat, but sometimes desperate situations come up. Maybe somewhere deep down inside PBG, she knows that Yardley has the same condition as she does and that Yardley deserves a home, too. Maybe I am putting human emotions into cats. Princess Bubblegum is a cat and I am not!
Thank you for your sponsorship and for helping us continue to do the life-saving work that we do!
Your correspondent,
Jess