Hello sponsors!
September already, can you believe it?? Good thing my fur is grey and not white, so I don't have to worry about what I'm wearing after Labor Day — although my correspondent just told me that fashion experts now say the whole "not wearing white after Labor Day" thing is no longer a fashion rule to live by. I guess I am old fashioned about things sometimes. I don't tend to keep up with the latest fads or trends. All of that worry and nonsense gets in the way.  I prefer joyful, carefree days, full of love and food.  And I have all the love and yummy food I could ever ask for from all of my friends here at Tabby's Place. Staff and volunteers spoil me every single day, telling me how much they love me. I just feel so darn lucky!
My super fantastic vet team has been keeping a close eye on me, and they think I'm doing relatively well now that I'm following my new routine. My three saviors have been a change in diet, medication, and daily baths — a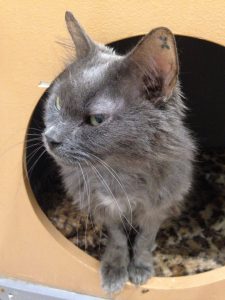 ll of which are because of your generous sponsorship! Without you, I don't know where I'd be. The special food I am eating these days means that I have to be crated overnight so my suitemates don't try to help themselves to my dish before I can finish my dinner. You didn't hear it from me, but there are several wet food hogs in Suite A…but, a lady doesn't name names.
I am not a huge fan of sleeping in a crate, but my human friends make it as comfy as they possibly can with a big fluffy bed and soft, cozy blankets for me to snuggle up in. So after I eat my dinner, I snooze until morning, when my friends bring me my breakfast. Then I have the run of the place again, and I get to romp and play with all of my kitty friends all day long.
The regular diet in Suite A does wonders to keep the kitties "regular," but it also produces more frequent stool, which was causing me more discomfort. My special food is keeping things "moving" so to speak, with less volume to irritate my poor little sore bottom. Along with my special food, I receive pain medication that keeps me as comfortable as possible. It is such a relief to be in less pain every day. And my beloved human friends give me a bath every day to keep my bottom clean and reduce irritation. I won't lie… taking a "butt bath" every day isn't my favorite thing in the world. But bath time always comes with plenty of pets and hugs and kisses, so how could I even consider complaining?
All I keep thinking about is how crazy lucky I am because of your generosity. All of this individualized and careful care is because you sponsor me. When my correspondent visited me to help me write this month's update, she assured me that my new routine is the best possible course of action for now. She thought maybe I should tell you that so you know I'm okay. She explained to me that surgical intervention for my anal stricture (I hate saying those words!) is too risky and involves a host of possible complications. So we are all hoping that things will continue to stabilize and maybe even improve. Hope springs eternal, right?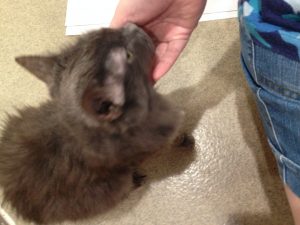 I just love my life here so very much, and nothing ever truly gets me down. Too much joy and love to spread amongst my human and feline friends, so I keep my furry grey chin up. The two pictures I am attaching to this month's update show my enthusiastic greeting for her when she arrived. I was rubbing my head all over her hands and arms and just soaking up all of her pets. I kept circling around and around her, and she kept laughing because she couldn't get me to stand still long enough to take any pictures.
Who can pose for pictures when there is love to be had?? I mean, really people! I did stand still for a few seconds when I heard a noise outside in the hallway, and she captured one of my serious looks. You can see the dark "X" tattoo I have on the inside of my ear. It is evidence of my previous TNR life before Tabby's Place. It might make me look a bit like a bad-ass, but you know better. I am the sweetest fluffiest marshmallow of a girl, and all I want is love, love, and more love!
I hope you know how much I love you! Until next month, be kind to one another.
Love, Mary
(With help from your correspondent, Florie)