We are not yet at full-tilt kitten madness.
But we are very, very close.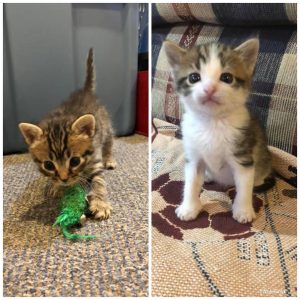 Our first wave of babies are still in the loving care of foster moms and have not crashed upon the Tabby's Place shore just yet.  Calla and Dahlia had some trouble with a cough the past few weeks and are being treated with antibiotics.  They've grown so much since they first arrived!
Our "Twin Peaks" litter (Ben, Cooper, Leland, Dale, Diane, and mom Laura) are also doing wonderful and are almost ready to graduate from their foster home.  Their foster mom sends tons of updates on this playful bunch, including this adorable photo of all the babies sleeping in a pile.  And we have two more bottle babies in foster care. JD and Elliott haven't even opened their eyes, but they're already stolen the hearts of the staff!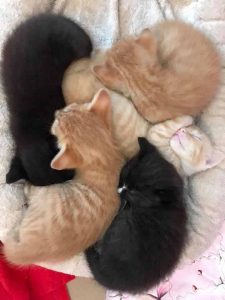 Our beautiful Lebanese immigrant kittens, Marble and Cinnamon, finally cleared their long stay in ringworm quarantine and quickly got adopted together!  It was obvious these two wouldn't last long, with their precocious personalities and Cinnamon's extra-deep meows.  (Their incredibly sweet mom Lotus is still available, though!)
Shy teenager Hunts was also adopted this month after coming so boisterously and joyfully out of his shell (or should I say bottle?) that he shocked and charmed us all, including a few of his feline Community Room compatriots.
And in news that simultaneously makes my heart soar and sink, little Lex is on hold!  I couldn't be happier that this wonderful little cat found someone who can appreciate her unique appearance (the result of eye infections when she was a baby), but I'll miss having her around playing in the Kitten Room sink and climbing the shoulders of visitors.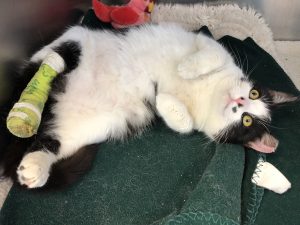 Currently, the Kitten Room is home to Lex—until she goes home—and honorary kittens Marsala and Luro.  Marsala came to us with a serious devolving injury on her leg.  But with lots of love and care, she's healed beautifully and is enjoying making new friends, feline and human.
Luro is an adult cat who came to Tabby's Place with Lex and has found a nice quiet home in the Kitten Room, since she's not fond of other cats and would be unhappy in our larger suites.  So far, she doesn't mind playing den mother to Lex and Marsala, as long as they allow her some personal space.  She does, however, love humans and will happily talk to you and soak up all the pets and belly rubs you have to offer while you visit.
It's the calm before the kitten storm here at Tabby's Place.  If you listen very carefully from the front door, you can hear the distant tiny mews of all the new furry friends just waiting to wash over us.  And if you're interested in meeting them, you can visit us any day from 12-5, or come to our annual Kitten Shower on June 22.
Thank you as always for your support of the Kitten Fund!  At this time of year, your help is crucial!
Your correspondent,
Tara