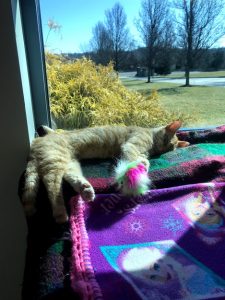 Dear Kitten Fund sponsors,
As the new writer for the Kitten Fund, I suppose a quick introduction is due. My name is Jae, and I am the newest Sanctuary Associate at Tabby's Place. I volunteered for approximately one and a half years as a tour guide before I became staff. I also adopted Oscar (a large orange tabby from the FIV+ suite) in December and have fostered a few kittens this year (Lydia and Delia, Bojangles, and Lemon). It is my pleasure to take over writing for the kitten fund. I've got some big shoes to fill considering all that Tara has done for the kitten fund and the kitties of Tabby's Place in general.
Since it's the middle of winter and kitten season hasn't quite started up again, you might think that we wouldn't have much news on the kitten front. However, that doesn't seem to be the case this February. Here at Tabby's Place, the fun never ends!
Sisters Lydia and Delia, long term residents of our ringworm special treatment area, finally found their forever home and went home late January. The pair were very feisty (and bitey) when they first arrived, and they were a bit challenging when I first fostered them. Slowly, however, with lots of patience, treats, and wand toys, they began to come out of their shells and have blossomed into friendly, flirty little ladies. I am glad to see them off to their home!
Venus and Serena, two lovely long-haired beauties, arrived in mid-January and are currently in foster. They need a good few doses of dewormers as well as some socialization. They are very sweet but a little on the shy side. They were found outside so it's no wonder they're a tad frightened of their new surroundings. Once their health recovers and they are ready for adoption, we can't imagine they'll be with us for long.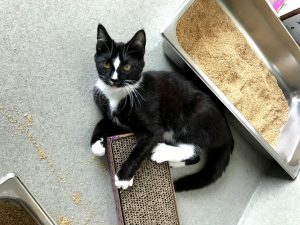 Periwinkle has been a Tabby's Place cat for a few months now and will soon outgrow the title of "kitten." She is slowly beginning to warm up to people. I personally even managed to briefly pet her tail with a single finger before she swatted me in true Periwinkle style. She's been assigned a whole cohort of BFF's to play with her and give her her newly discovered favorite:  lickable treats. The other cats in the Community Room have also been a good influence on her. She was often found snuggling in the blankets with our Dear Departed Puzzle, whom she clearly misses. Hopefully, she still finds comfort in hanging out with her friends Sammy and Tux.
Snippers, a seven-month-old black and white girl, is our newest challenge. She came to us from another rescue that couldn't quite resolve her upper respiratory infection. Luckily, with a solid regimen of antibiotics and the removal of a nasty polyp, she is feeling so much better. Her bathroom habits, on the other hand, continue to baffle us. You see, Snippers is a lovely lady, but she doesn't always like to use the litter box. It seems she often won't do both a #1 and a #2 in the same box, but rather needs two perfectly clean boxes. We are currently offering her an entire buffet of boxes with various types of litter to see what she seems to favor. We are beginning to make progress and will hopefully find what makes her the most comfortable.
Our Lebanese fluffball Mr. Cotton has finally returned from foster and is quickly winning over everyone's hearts! For those that aren't familiar with his case, he tragically fell off a balcony and lost both his back paws as well as control over his bowels and bladder. He is our newest incontinent cat and needs daily medical care for his condition. The cute part (besides his adorable blue eyes and fluffy white coat) is that he now wears special socks to protect his legs and a diaper for his bum. Beware, however, if you pick him up when he's not wearing a diaper! He has a bit of a nasty habit of giving unwary visitors a bit of a shower (not on purpose, of course, as the poor boy has no control of those faculties!).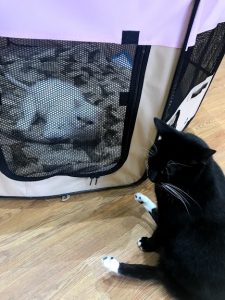 Circe and Figaro, two kittens from a rescue in Puerto Rico, also recently arrived. They have unfortunately been exiled to the ringworm area, but luckily that's just temporary. Their rescue did an amazing job socializing them and they are very friendly. We hope to have them off to their forever homes very soon.
Lastly, we recently received a group of six cats from rescues in Georgia and North Carolina. Suzie, Tipsy, Bing, and Beatty are all teenagers, and three of them have special needs. They haven't been with us very long, so we haven't yet done a full medical evaluation on them, but you can expect more information on them in future updates!
Thank you for your continued support of the kitten fund! Without your generosity, we would not have the capability to take in and care for these sweet little babies.
Your Correspondent,
Jae