This is not a drill!  Kitten Season is here!
That's right, sponsors; it has begun.  The pitter pat of little paws, the mild mews from tiny mouths, the power of puny purrs.  Our very first newborns of the year arrived in the last few weeks.  Sisters Calla and Dahlia (pictured) came in on their own and are being bottle-raised in a foster home.  Mama Laura gave birth to her babies (Ben, Cooper, Dale, Diane, and Leland – any Twin Peaks fans here?) and is raising them in a foster home until they're old enough to be independent.  So far, all the babies are doing great.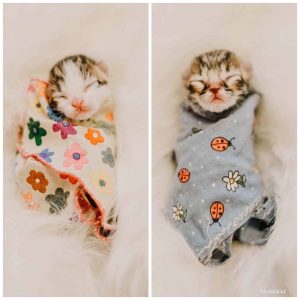 We also had three young fellas get adopted almost as fast as they arrived!  Robin, Robert, and Alexander weren't with us long before they moved on to their forever homes but managed to steal our hearts just the same.
Also adopted in the past month:  Millie, Pawla, Purrscilla and Celsey (together), Hamsa, and Elsa.  Hamsa was a terribly shy little girl, and her adopters just fell in love with her, spending their Saturday laying under the cubbies in the Kitten Room until they earned her trust.  It's always wonderful to see someone take a chance on a cat that might get overlooked, and I'm sure Hamsa is being absolutely adored by her new family.
Meanwhile, our poor babies Marble and Cinnamon are still stuck in ringworm.  They cleared for a day just to go right back.  They're friendly, playful kittens and can't wait to be cleared and spread their boisterousness all over the world.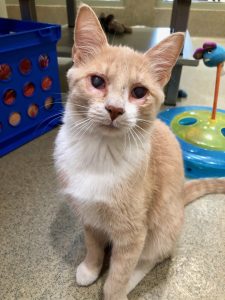 And finally, an update on sweet Lex.  Lex came to us from Baltimore last month with a mysterious eye ailment.  She saw an ophthalmologist, and it was determined that, as a kitten, she had a severe herpes infection in her eyes.  That infection is cleared up now, but it left Lex's eyes a bit cloudy and surrounded by scar tissue.  She also has scar tissue blocking her tear ducts, so she needs daily eye drops to keep her eyes lubricated.  But none of this has dampened her spirits!  Lex is the sassiest, friendliest, most playful little babe.  She loves meeting new people and will entertain herself with a toy mouse until she literally flops over panting.  We're hopeful that, even though she needs a little extra care, her enormous charm will win the heart of a special adopter.
The coming months will be very busy with kitten news; we're just getting started!  Our annual Kitten Shower will be held on Saturday, June 22nd. We'd love to thank you in person for supporting our smallest residents!
Your correspondent,
Tara