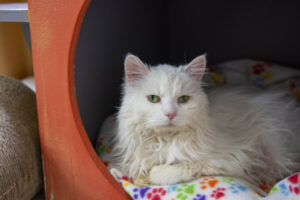 Happy May to Team Faye!
Are you enjoying the spring, Faye aficionados? Miss Faye is trying her best to do so, and that means attempting to stay out of the drama that flares up in Suite B a little more often than we'd like. She's not always successful in this endeavor, but we appreciate her efforts; we do not need any more combative felines in that room.
Over the past month, Faye was found to have a small cyst on her chest. That could be cause for concern, but our vet team has examined it, and the cyst has been deemed non-problematic. We will, of course, keep an eye on it. Our beautiful girl had one incident of loose stool over the past few weeks, as well, but it really does seem to have been just one instance. Otherwise, Miss Faye is doing nicely at present.  She is still vocal for her breakfast (well, any meal, really) and enjoys attention from all the visitors and volunteers.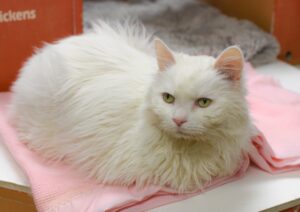 Faye and all of us at Tabby's Place would love your help in expanding our family—with volunteers! Last month we mentioned our need for additional volunteers as we prepare for our Quinn's Corner expansion, which will open later this year. Volunteers have a tremendous impact on the lives of the cats at Tabby's Place, whether that means cleaning suites, feeding, doing dishes and laundry, or just spending quality time with our fabulous felines.  If you have a love for cats, we have a position for you as a Tabby's Place volunteer.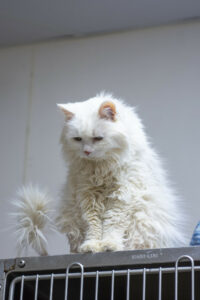 Please note that all volunteers MUST be at least twelve years of age; volunteers under sixteen must be accompanied by a parent during their shift. Interested? Head over to our volunteer page, submit a volunteer application, or contact our Director of Volunteers, Karina Jewitt, at kj@tabbysplace.org. Please share this opportunity with your loved ones, too! If you live too far to volunteer in person, well, we understand that you're with us in spirit via your generosity, and we are very appreciative indeed!
Your guest correspondent,
Stephanie