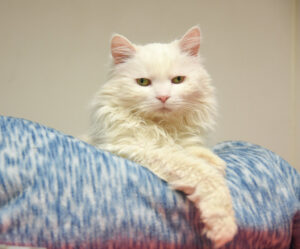 Greetings, Faye Fans!
I'm pinch-hitting as our beautiful senior's correspondent this month. It's always a pleasure to write about this beautiful girl!
Miss Faye received a sorely-needed brush out over the past few weeks—the Tabby's Place equivalent of a spa treatment. Fortunately, she is willing to tolerate a good brushing sometimes; she really needs it with that long fur.
They say that with age comes wisdom, and it seems to be true in Faye's case. She continues to stay far away from the fighting in her suite, a nice plus for our staffers and volunteers who don't need any more battling felines.
Faye continues to spend most of her time indoors, even on warm days when many others in her suite venture into the solarium. But this, too, may be a form of wisdom. You see, a handful of her suite-mates have decided that they enjoy the solarium—to a degree. They often don't enter it fully, and either block the tube that leads from suite to solarium or cluster on the small flat surface leading from the tube to the downward ramp in the solarium, making access to the solarium difficult at best.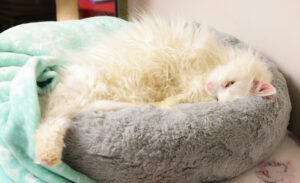 Medically, Faye's nausea had been improving until a few weeks ago, when her tummy had one particularly bad day. We will continue to monitor her condition and adjust her medication as necessary.  However, this doesn't seem to affect her desire to eat and her expressive nature when the morning volunteer enters with the food tray, loaded with little plates like you get french fries in, comes into the room.  Faye is quite vocal, and as such, often gets fed first to keep the noise down. When the other many cats in Suite B are done being served, Faye will often check to see if that volunteer still has some other options and additional plates of which she can partake. Often, the situation is positive.
In other news, by now you know that Tabby's Place is building an expansion called Quinn's Corner, for vulnerable cats with feline leukemia virus (FeLV). As we prepare to open our expansion later this year, our need for volunteers increases. Volunteers are a huge part of our operation, as we could not run Tabby's Place without them.
Beginning in May, we will launch an intense volunteer recruitment campaign to find those willing to give the gift of time and make an impact on the lives of our cats.  If you know of anyone who would be interested in volunteering (perhaps even you!), please let them know we will soon be reaching out with more details. (They can sign up to receive our emails here; scroll down to the "subscribe" box.) There are many types of volunteer duties to fit diverse abilities and schedules.
Thank you, as always, for helping to spread the word about Tabby's Place!
And thanks, most of all, for your continued generosity to Faye. We deeply appreciate your helping us continue to care for this lovely, gentle girl.
Your guest correspondent,
Stephanie