Greetings Cotton friends,
Happy October to you! This time of year in New Jersey can be pretty spectacular. The air gets a little cooler and crisp, while leaves start turning fabulous colors and blanketing the earth. There is so much to take in! Many of the lucky kitties here at Tabby's Place have done just that—on their magnificent stroller rides. We have a fabulous volunteer team that picks up the beautiful felines "curbside" and takes them for a stroll. Below is a video of their outings, including our sweet boy Cotton.
Cotton can be a tad demanding at times. On this particular day, he seemed to say:  "I don't want to hear your excuses. I WILL stroll today!" Rain or shine, he waits….  Could you say no to this face?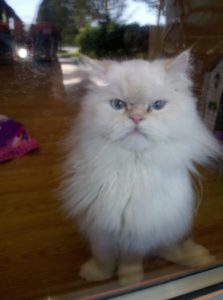 Rumour has it that Cotton received an award this month by one of his favorite volunteer servants: "Most Enthusiastic Rider—He leaves little doubt that he is excited to stroll, before, during, AND after his ride! Once is not enough for this kind fellow, with an ability to scoot across the lobby to me on his diaper that remains unparalleled."
In medical news, Cotton's diet was altered last month to address both loose stools and weight gain. The combination of medication and dietary change has had a positive impact. It is clear that Cotton is very sensitive to changes in diet, so we are being extremely diligent about keeping him away from other food.
Cotton spends a great deal of time trying to sneak into the side entry hallway. He knows that the strollers are kept there and he is very clever. Cotton still enjoys visiting the Community Room on occasion, and this month he found a new playmate in there. Paige is the only kitten still with us from a litter of somewhat shy black-and-white cuties. She was the shyest of the bunch, so came to Tabby's Place from a foster home for some additional socialization. She is now confident, playful, and loving. No one in the Community Room seems to want to play with her, except when Cotton comes to visit.
We are so grateful that Cotton has you in his corner of the world.  Cotton sends you love, hugs, and head butts to show his gratitude.
Until next month, be well!
Your correspondent,
Donna