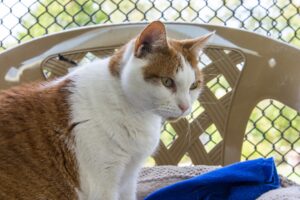 Dear Carrot Friends,
Carrot had a fairly eventful month. For the first time since the pandemic started we were able to start our Aged to Purrfection visits again. This program is the one where the cats visit nursing homes and hang out with the seniors. It was very sad not being able to go to see the seniors during this time, especially knowing they needed it so much more during shut down. But we had to keep everyone safe, so Aged to Purrfection has been on hold for about 20 months. We checked carefully with the senior homes to make sure all their residents are vaccinated, and our visit would be safe (for the seniors, our volunteers, and the cats). At the moment we have started with just visiting one of the senior facilities, and will be visiting more in the New Year.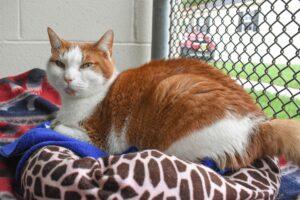 Since we also had a ringworm outbreak at Tabby's Place recently, we postponed our visit for a few weeks and decided to only send cats who are in rooms where there has been no ringworm present. Our criteria included:
The cat had to already be in the Aged to Purrfection program
The cat was in a room that did not have any other cats diagnose positive for ringworm
That only left 2 cats in the building who met our criteria:  Carrot and Angelo. And so off they went to visit the seniors!  Our volunteers who took them to the senior facility said Carrot had a blast! He was outgoing, affectionate, and seemed to love being back with his senior friends. Angelo was more reserved, but still really enjoyed the visit. Our volunteers said the senior residents were soooooooo happy to see the cats again, and thoroughly enjoyed their visit. I am so happy this program was able to start again, as it means so much to the seniors we visit, and the cats love having all that attention.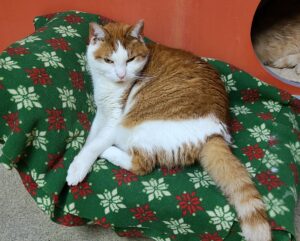 The ringworm situation is improving here, and we hope to be back to normal soon. It spread through several of our older, immune-compromised cats, but we acted quickly, put strict sanitizing protocols in place, and gave treatment to the cats who came up positive for ringworm. It has been over 14 years since we had an outbreak of ringworm (I know it's over 14 years because the last one was happening when I started at Tabby's Place in June of 2007). We are extremely careful to screen all cats for ringworm, but nothing is foolproof. Once every 14+ years isn't so bad though, we must be doing something right.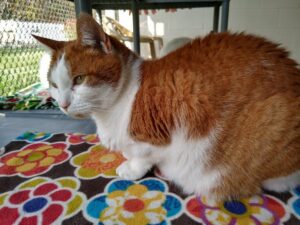 On the suitemate front,  Pepperoni was adopted. We are all very happy for Pepperoni and wish him a wonderful life in his new home. Carrot had some issues this month with J'Happy. They got into a few disagreements lately—nothing serious—and Carrot said it was not his fault. Other times they were found snuggling, so they seem to have a complicated friendship.  As usual, Carrot and his friends have been hanging out in the solarium most of the time. The Suite C solarium is by far the most popular of all the solariums, and it's definitely the party room.
No medical news to share this month, which is always good news. Carrot is healthy and happy.
That's all the Carrot news for now. As always, thank you so much for everything you do for Carrot. Carrot would like to wish you a very Happy Thanksgiving, and tell you he is most thankful for YOU!
Your correspondent,
Karina