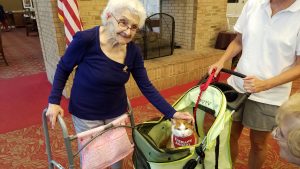 Dear sponsors of the Aged to Purrfection Fund,
The Aged to Purrfection (ATP) program allows Tabby's Place volunteers to bring some of our most social and well-behaved cats into long-term care facilities to spend quality time with residents. Unfortunately, these visits have been suspended during the COVID-19 pandemic in accordance with the state's stay-at-home order and guidelines put in place for the protection of the residents in long-term care facilities. Our friendly feline superstars have kept busy with stroller walks to keep them entertained and socialized. Although they miss making new friends, word has it that they have been thrilled to go outside and are giving the stroller experience two paws up.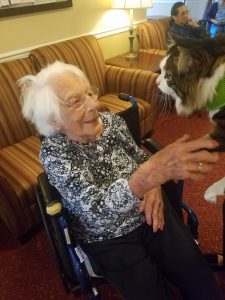 In order to get a sense of the vibrancy of the ATP program, here are a few examples of the positive impact it has had on the residents who experienced visits from our cats. Ellen, an assisted-living resident is a quiet woman who seldom participates in social gatherings, preferring to keep to herself. She prefers watching the goings-on from the sidelines rather than being directly involved. That was until she encountered Rose. Our sweet diapered Rose was the catalyst Ellen needed to want to be in the thick of things. As Ellen told us about the cats she has loved in her life, her face was peaceful and infused with warmth. Her smile and Rose's purring were a beautiful snapshot of social engagement ATP-style.
On another outing, Pepita and Carrot were showered with love during a trip to the memory care unit at an assisted living facility. As they mingled and worked their charms on residents, laughter could be heard echoing down the hallways. One of the residents, Judy, experienced a whole demeanor change whenever she stroked Pepita's silky fur. She smiled with her whole heart and reveled in being able to share loving memories of cats that had been in her life. Even residents that may have had a hard time communicating showed delight with their smiles and the loving way they interacted with our little feline duo.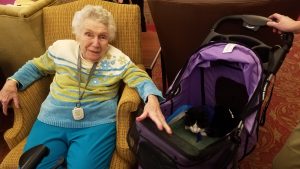 You will be happy to know that Carrot has continued to report to work during the pandemic and has been doing virtual visits with a nursing home resident over Zoom. This is a part of the program that has been launched while Tabby's Place is closed to the public. Here is the link:  Virtual Visits with the Cats
Rose has taken advantage of some extra free time during the pandemic to work on her health and has slimmed down. She may need to update her diaper wardrobe as a result of her trimmer waistline. The winning combination for her was fewer treats and wet food along with a somewhat risky exercise program which consists of jumping into Anka's enclosure with little hope of escape. This has helped our girl make positive changes during these tough times.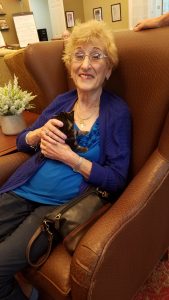 As the staff and a few dedicated volunteers have worked diligently to keep things flowing smoothly at Tabby's Place, our cats' well-being has been placed at the highest priority. We hope that at some point in time it will make sense to reunite the ATP cat team with their biggest fans at our local long-term care facilities.  It is a beautiful partnership that greatly benefits both parties. Thank you for your support in making this warm and wonderful program possible.
Your correspondent,
Karen