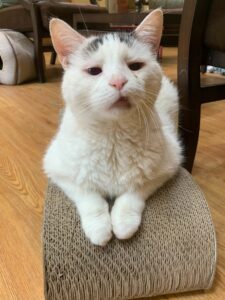 Dearest sponsors,
Do you hear the music?
Are your floorboards rattling from the dancing?
Does the moon over your head seem a little bigger, a little brighter, a little truer and…bluer?
You're not imagining things. The world has changed forever.
FRANKIE. HAS. BEEN. ADOPTED!!!
That's right, beloved Frank-o-philes: Tabby's Place's personal Chairman of the Board has been chosen at long last, by an adopter who will love him all the way.
As you know better than anyone, Ol' Blue Eyes has searched long and hard for this sensational adopter. More accurately, we've searched for him. Frankie himself has been unworried all along, his "sad" blue eyes actually smiling with the knowledge that the best was yet to come.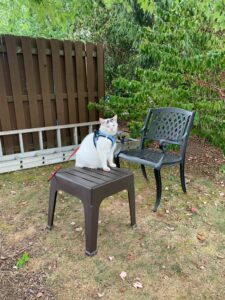 Along the way, he made "My Way" his personal anthem…with a few extra choruses of boisterous bravado. As that other Frank sang, our wry white cat lived life too the full, "and not in a shy way." He certainly "bit off more than he could chew" (including the ears and egos of other cats). But unlike Mr. Sinatra, Frankie had no regrets. Not even "too few to mention." None.
And now, he can confirm that everybody loves somebody sometime.
Actually, it might be more accurate to say that everybody loves Frankie all the time; it just took precisely the right adopter to say "come fly with me." The requirements were clear: no cats; open-heartedness to an older gentleman (and ability to make him sing "you make me feel so young!"); and that certain magic that happens when a person and a cat gaze into each other's eyes and say, "it had to be you."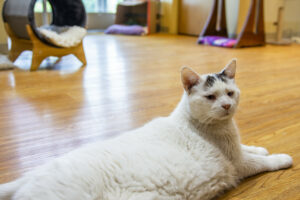 For all his old-school charisma, Frankie's forever home found him in a most modern way. Our intrepid senior veterinary technician, Denise, took it upon herself to champion Frankie on TikTok, touting both his glory and the grief of his long-delayed adoption. Where was the person who would share all his tomorrows, hold him cheek-to-cheek, fly him to the moon?
Over 400,000 TikTok views later, she's here…and she and our Frankie have gone from strangers in the night to soulmates.
We're all gushy-goofy with glee at Tabby's Place, literally dancing through the halls and singing to Frankie in his stroller. (I'm not being poetic. Click here. Frankie would have preferred Tin Pan Alley standards, but he understands the need to appeal to Gen Z.)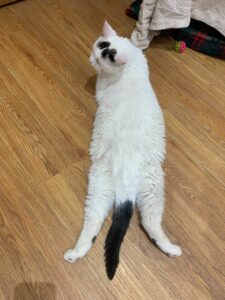 Frankie is bemused, entirely amused by our excitement. After all, this is the cat who always knew he had the world on a string. Life at Tabby's Place was the cat's pajamas; adoption was inevitable; every day along the way was worth loving to the fullest.
And so he did.
All thanks to you.
Frankie's final days at Tabby's Place — you might call it his "victory lap" — were, appropriately, spent in a way no cat before or after shall ever while away his afternoons. As part of our Quinn's Corner expansion, the Tabby's Place lobby has a spiffy new entrance we've affectionately nicknamed "the airlock." This became the most Frankiful place to snooze away the afternoon in full sunshine, far from other cats (and the temptation to clobber them), but the first face to greet lucky visitors. Frankie relished this role.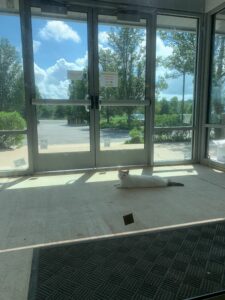 But then, Frankie relishes simply being alive. Never has there been a creature so fully-alive as our ferocious friend and international phenomenon Frankie!
And even as we weep and whoop over his adoption, he leaves us with the greatest gift: a glimpse of just how full life can be when we love it all the way.
Beloved sponsors, I thank you for loving Frankie so generously and so joyfully. This long-awaited day is possible only because you believed in our bodacious, blue-eyed beacon of hope and mischief.
On behalf of Frankie and his adoring new mama, thank you from the depths of my heart!
Your joyous guest correspondent,
Angela
* * *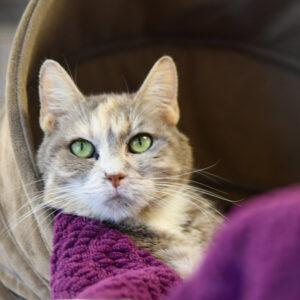 Since Frankie has found a home to call his own, your sponsorship has been transferred to another Special Needs cat: lovable Luna. Like Frankie, Luna has a spirit as huge as the moon, and a heart to match. You can meet little Luna here, and look forward to your first update on her around the 15th of next month.
If you'd prefer to choose a different cat to sponsor, you can meet them all here. Please feel free to email us if you'd like to transfer your support to a different kitty. (Otherwise, going forward you will receive updates on Luna each month.)
Thank you again for your kindness and generosity to Frankie. You've helped to make this marvelous news possible for him, and we're so grateful!
One last treat for you: Frankie's victory lap!