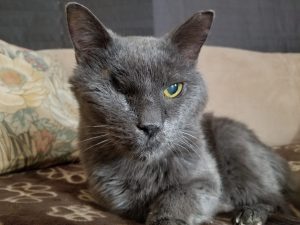 Dear Charlie friends,
It is with a heart ripped in two that I must let you know: we lost our beloved Charlie today, and I have no idea how to be without him.
It all happened so fast. He was doing so well. He was happy, easygoing, lovable Charlie.
Things started to go wrong on Saturday. He was a little quiet, and not eating like he usually did. I took him to Tabby's Place with me so we could check him out. We did bloodwork, X-rays and a urine check. The bloodwork showed his potassium was low, and he was slightly anemic. It was nothing drastic; we've dealt with much worse. We started him on a potassium supplement and gave him a shot to help the anemia. I took him home, and he seemed OK, just a bit quiet.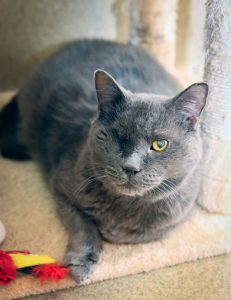 Sunday morning, Charlie was quiet and not eating well. By early afternoon, he was declining, so I met Dr. Collins at Tabby's Place so she could check him out. Dr. Collins was concerned and told me to take him to the emergency hospital. As soon as we arrived at the hospital, they whisked him into the back to take a look at him. After what seemed like forever, they came out and told me they wanted to keep him in the hospital and I could go home. I asked if I could see him before I left, and they said OK. I went into the back, where Charlie was set up in a cage, and I hugged him tight, told him I loved him, and that I would be back for him.
On Monday, they found that Charlie was in congenital heart failure. They gave him several medicines to try to help him. On Monday evening, my partner and I went to visit him, and he looked a little brighter. He perked right up when he heard our voices, and I allowed myself to feel hopeful. I spent some time with him, pet him, hugged him, kissed him and told him how much he is loved. As I was leaving him for the night, I told him I would be back the next day.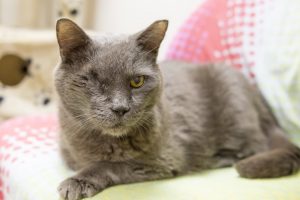 Today, Tuesday, I got the call everyone dreads. It was our senior vet tech calling to tell me Charlie was failing, his heart was giving out, and there was nothing more they could do for him. For a few moments, I dissolved into tears, then I had to pull myself together and get to my Charlie. He was not going to leave this life alone. My partner and I rushed to the hospital to be by his side. They brought him to us in a blanket, and he looked so tired. He looked up at us like, "I'm sorry, I can't fight any longer." We told him it was OK, he didn't need to keep fighting. We were there, we were with him, and we held him as he left us.
I have no idea how to be without Charlie. He has been such a huge part of my life, and one of the sweetest, most wonderful cats I have ever met. My heart also breaks for Jude, who was his best friend. Charlie was the only living thing Jude ever really loved. He comforted her and made her feel safe. For the past two days, when he was at the hospital, she has been searching for him. I'm sure she will feel his loss too.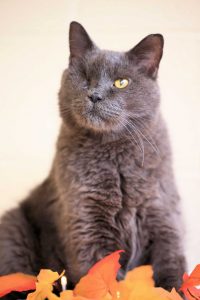 Charlie was a legend, so I am sharing some of my favorite Charlie pictures. I am not sharing the pictures I took last night at the hospital, because Charlie would not want to be remembered that way. Like all great legends, he deserves to be remembered as strong and healthy.
My Charlie, I will miss you every single day. Thank you for coming to live with us, and making the world a better place. I will miss writing these updates with you; we always had fun writing them together. I will miss seeing you demand food all the time. But most of all, I will miss snuggling you.
I love you so much and I miss you like crazy. You will never be forgotten, ever!
Thank you all for joining us on our journey of Charlie's life. I think he had a good life, and he enjoyed having his own home and his own family. Like all great legends, he will live on forever in our hearts.
Until we meet again at The Rainbow Bridge Charlie…I love you forever.
Your correspondent,
Karina
---
Note: Since dear Charlie has passed away, we have transferred your sponsorship to another cat in need: Charlie's little "sister," Jude. You can read about Jude here, and catch up on her past updates here.
If you prefer, you can select a different Special Needs cat to sponsor. Click here to meet all our Special Needs cats, and contact us by email if you'd like to transfer your sponsorship. Otherwise, you will receive updates on Jude each month going forward. As always, your generous support will go where it's most needed.
Thank you for your love and beautiful generosity to Charlie. The Tabby's Place cats are deeply fortunate to have you in their lives.