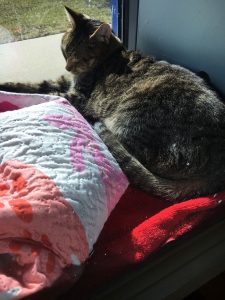 Dear Supporters of Sammy,
Lately, as I waltz into the Community Room, the first words out of my mouth, the first question I throw into the air has everything to do with whether Sammy has made any progress in the friends' department. I've been hoping and sending up many secret wishes that Sammy will make friends with Tux, one of the cats with whom she casually hung around when she and Puzzle were such buddies. I want to walk in and find Sammy and Tux cuddled together in the window seat, in the sunshine, just the way Sammy used to be with Puzzle.
They've been spending a little time together, Ginny reports, and she gives me a tiny smile that says, "all hope is not lost." I know that I have to give Sammy time. It's hard to get over losing your best friend. It's hard to trust again.
Meanwhile, there is a slew of playful young rabble-rousing kitties in the Community Room, but Sammy will have none of them. She remains, most of the time, glued to the cat tree, seemingly content to snooze her time away. When I meander over to pet her, she's sweet and welcoming. She loves the attention, but she's still so shy. Ginny reports that someone came in and showed an interest in Sammy  as a possible adoption, but Sammy's shyness sent her bolting away in the opposite direction.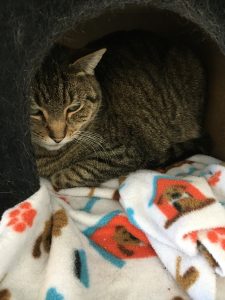 And the window seat, which used to say Sammy and Puzzle's Place has been coopted by new tenants while Sammy hides out in the cat tree. I know things can't stay the same, but I find myself going in more and more frequently, trying to give her extra attention, hoping that some extra love might do the trick. And it will. Spring is around the corner. Sammy lives in a beautiful place. She's feeling healthy. All she needs is to find that one true friend.
Sammy and I thank you for your continued generosity to Tabby's Place.
Your correspondent,
Kate
Postscript: In light of the arrival of COVID-19 in New Jersey, Tabby's Place is currently closed to the public except by appointment. Please click here for our official COVID-19 response.