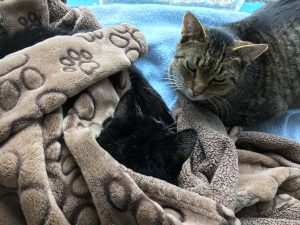 Dear Supporters of Sammy,
It's January and the beginning of a New Year and a new Sammy, I told myself, as I marched into the Community Room and glanced around. Sammy could be anywhere. I'd heard a rumor Sammy was becoming less shy and more outgoing. She'd been spotted spending more time away from her window perch, lounging on the chairs around the table, hanging out with the other kitties besides Puzzle. Had Sammy begun the year with a New Year's resolution—to be more of a social butterfly.
I wondered if I was going to see Sammy somewhere other than the usual place. When I walked through the door of the Community Room, the first face I saw was Sammy's. She wasn't roaming around, visiting with the other cats, but was sitting calmly inside her window perch. The sun was shining—for the first time in days—casting a glow around her, making her seem angelic. At first glance, I thought she was alone, but I noticed something strange as I walked closer. A large, lumpy blanket was beside her, purring.
What?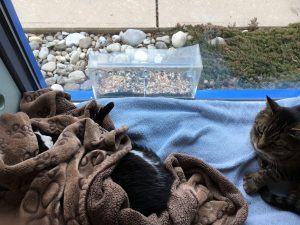 Immediately, suspecting something wonderful was underneath the blanket, I motioned Ginny to come over. Carefully we lifted part of the cozy coverlet to reveal none other than . . . Puzzle. He was wound tightly in a ball. His face was almost completely hidden. When we lifted the blanket, he glanced up, as if to say, "Yes, can I help you?" Before we had a chance to say anything, Sammy began to inch closer and closer and even closer still. The purring, which initially had served as faint background music to my ears, gradually increased in volume.
We continue into the new year with Sammy and Puzzle together. She's not only in good health but also happy with her good friend by her side.
Sammy and I thank you for your continued generosity
Happy New Year!
Your correspondent,
Kate