Dear Supporters of Sammy,
Pixie's window box has been officially renamed—Puzzle and Sammy's Place—and I'm sure Pixie would be happy her favorite place has now become the hangout of these two – if I may use the term – "lovebirds"?  Today I arrived in the Community Room, only to find Sammy lounging in her place, half asleep in the lovely sun. I began to pet her, as I usually do. She began to purr.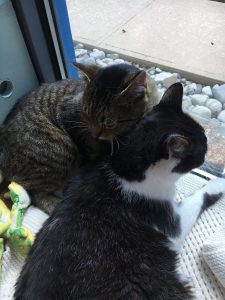 But she wasn't alone for long. Puzzle suddenly appeared. He jumped into the window box and what happened after that…well, let's just say love was in the air. The two began nose nuzzling, face rubbing, and then they snuggled next to each other until it became difficult to tell where Sammy left off and Puzzle began. Sammy's purring was accentuated by Puzzle, and suddenly we had a kind of peaceable kingdom concert as the purrs swirled around and around.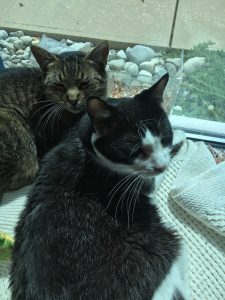 Of course, I couldn't resist reaching in and petting Sammy and then Puzzle. I called out to Ginny, who's been working at Tabby's Place even before I began to volunteer here some fifteen years ago, inviting her to witness all the love. She laughed and explained that Sammy and Puzzle had become quite an item lately. But she added a caveat. Although Puzzle is quite sociable, she said, Sammy had become very possessive. If another cat attempts to join them in the window box, Sammy hisses. She isn't much into sharing Puzzle, but Puzzle appears to be okay with that arrangement for now.
On the medical side, Sammy had her annual echocardiogram and everything looked good and stable, so Sammy said hoorah — and we send up a big cheer also!
As the summer is ending and the beautiful fall weather is arriving, Sammy and I want to thank you for your continued generous support. Tabby's Place is only possible because of donors like you. Until next month . . .
Your correspondent,
Kate