Dear Supporters of Sammy,
At first, I thought it might have been an aberration—visiting Sammy and finding her surrounded by cats.  So many black and white cats! Some of the most beautiful cats you'll ever see, all comfy and cuddled together in one place. Well, I thought, maybe, it was a once in a lifetime event. Something happened which drew all these felines together (the secret world of cats). Something I would never understand.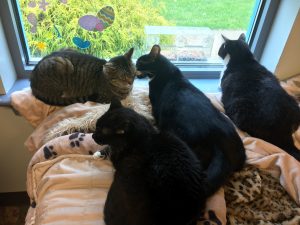 But, no, this gathering together—this amazing getting along together—has become a regular thing. Sammy loves to congregate near the windows in the Community Room and watch the birds with all the other kitties.
The other day when I was visiting Sammy, she was sitting alone on a perch by one of the windows when Puzzle came over. It's interesting to watch two cats interact. At first, Sammy was intent on watching the window, but when she realized that Puzzle, a handsome tuxedo cat, was near, she glanced over.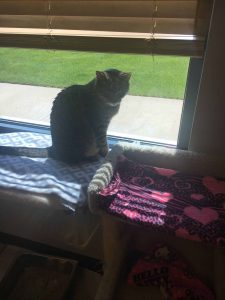 Puzzle slowed his approach and leaned in. Both cats touched noses. I could hear mutual purring. There was room on the perch, so Puzzle settled near Sammy. Then there was some snuggling. Not much. But enough to show their mutual affection for each other. Enough to make me feel good that I was there to witness this friendship.
I go back a long way with Sammy. I have memories of her hiding under furniture. Cowering when I tried to pet her. We used to call her the shy cat. So it is amazingly satisfying to see her come into her own. She fits into her environment. She has friends, who include Puzzle and Tux and Pixie and until recently, Hunts, who was adopted.
As always, Sammy and I thank you for your continued generosity. We hope you enjoy the increasingly nice spring weather. See you next month.
Your correspondent,
Kate