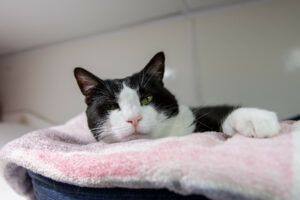 Dear Friends of Pepita,
Your sweet girl has been quite happy of late. What a wonderful world when life consists of lounging and napping in the sunshine and breezes in the solarium, enjoying the love of volunteers and visitors, and playing with wand toys and tiny toy mice to bat around the smooth floor!  The most upsetting thing in her world these days are the mornings when the landscapers do the mowing and she hides in the tube until the peace returns.
With the extra space opening up in the expansion, you know that some of Pepita's long-time suitemates already have moved over there to an official 'incontinent' suite: Boom and Steven, for example.  So Pepita and her suitemates are happily chowing down on a regular food diet and enjoying the less messy suite! The volunteers who clean Suite A are also enjoying a bit less clean-up work in there.
Adoptions are going gangbusters lately at Tabby's Place!  Not just kittens (though there are numerous of those coming in from their foster families and right out the door lickety-split), but several suitemates of Pepita's have proceeded to their forever homes, including Poblano, Snowy, and Rainey. To fill those now empty places in her suite, Pepita and Malora (who has been in Suite A for a while now) are welcoming a few hand-picked suitemates, including Ash, who is a gray tabby, and Moo Moo, who is a dilute calico. Add to the neighborhood Cookie Monster, a black-and-white sometimes sweet and sometimes spicy girl, and Mullet a former buff-and-white feral who is part business and part party, and you have a collage of colors and personalities! We are hoping this mix will be good for all the fur babies in there, and know our eagle-eyed volunteers will alert the staff if any behavior issues pop.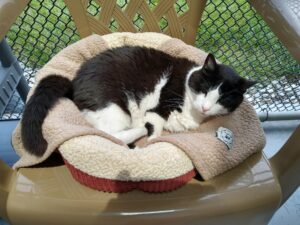 This month was the launch of the Tabby's Place Linda Fund Matching Challenge. If you know anything about Tabby's Place, you know that extraordinary medical care is the norm for Tabby's Place cats. We promise each cat that, once she's a Tabby's Place kitty, she will receive all the medical care she needs to thrive, regardless of cost.  The Linda Fund Matching Challenge is our annual fundraiser that is focused on the funds needed to support this extraordinary medical care.
Prescott is the face of the Linda Fund this year.  She suffered severe injuries and was not expected to last the night. And now, because of our ability to provide expert medical care, she is an official lobby 'love bug,' embracing all the love she can get from every single visitor and volunteer, and racing Hips around the lobby and down the hall, loving life.
Our website's home page has been taken over with the Linda Fund meter, and each dollar donated gets matched from a pool of funds from a set of very kind and generous donors. It's an exciting time of the year for us, and we are all on edge to see if we can beat last year's total, so please share this information with your friends and family, and let them know how much Tabby's Place and Pepita mean to you.
And then there are milestones we must celebrate!  Tabby's Place will have been open for 20 years this October, an amazing feat, thanks to the incredible Executive Director, Jonathan Rosenberg, who brought the dream to life, the devoted staff who keeps this place running, and generous donors such as you! But a special milestone this month was when we saved our 4000th cat!  Serendipity, a sweet Siamese mix gave birth to 5 healthy male kittens in the lap of one of our own staff members, so comfortable she was with that staff member. You can read more about the story of this great milestone in Angela's blog: Dippity!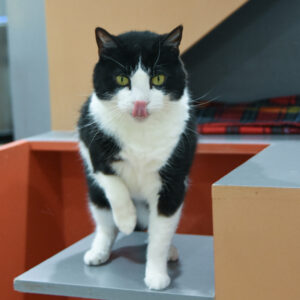 For her health report, Pepita was noted to have firm stool again. She is already on one medication to help with this, but if it continues, we may have to start another medication to help her. The vet team is constantly monitoring all the cats, and the volunteers help by pointing out anything unusual that they see when cleaning or visiting with the cats. It's amazing how much information can be shared when there are hundreds of eyes watching out for the precious ones.
Cats have a way of speaking to our hearts.  I know Pepita speaks to your heart and she is forever grateful to have you as her friend and benefactor, giving her a long and loved life at Taby's Place.  Let's look to cooler temperatures this fall and even more solarium time for our special feline. Stay tuned for news about our October Public Grand Opening of Quinn's Corner. We hope to see you then.
Your correspondent,
Sheila