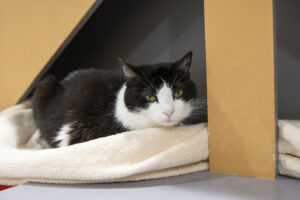 Happy March, Pepita Devotees!
With a Nor'easter at our doorstep and the winds whipping snowflakes in the air, I sit at home and wonder if Pepita is venturing out into her solarium. Spring is less than a week away and we've had a particularly mild winter here in Ringoes, NJ.  But today is a sudden reminder that winter is not quite done with us, bringing fierce winds and a touch of whipped snow in the air. My guess is that Pepita is cuddled up today in one of the soft cat beds or on a blanket in a cubby inside the nice, warm Suite A.
In no time at all, it will be stroller season again at Tabby's Place, when specific cats (including our gentle girl) are strolled about the Tabby's Place property in appropriately equipped strollers, by a dedicated set of volunteers. Pepita loves to smell the air and watch outdoor activities when the temperatures permit.  This Stroller Program has become so popular that when Quinn's Corner was built, there was a special room designated to house the strollers and a special door to easily exit and enter the Tabby's Place grounds.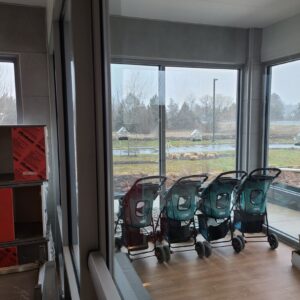 Change is definitely in the air!  Pepita has much room to sprawl out now in her suite, as a number of her suitemates have moved to a suite in Quinn's Corner, the expanded part of Tabby's Place that will officially open later this year. The staff has been thinking hard about when and how to move the fur babies around, for a variety of reasons. In the case of Suite A, Viktor, Roxy, Boom, and Steven have moved to a new suite in the expansion. The good news is that Pepita's suite may not have to be on a restrictive GI diet, and that transition should start soon. How wonderful for Pepita to enjoy regular food all the time! Fingers crossed that her digestive system agrees.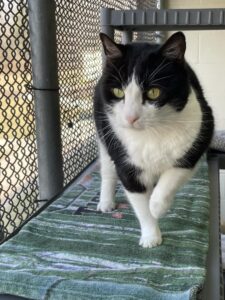 Pepita is back on a course of steroids to help with her skin irritation and hair loss. She usually responds well to the meds and that is the case this month, as her dose is already tapering. Our sweet girl was checked for a urinary tract infection but was cleared so another bit of good news. The stool softener that she is now on seems to finally be having an impact. This is a good thing for both her comfort and for the staff members who need to express her three times a day.
One recent Sunday my husband had the pleasure of visiting with Pepita when he stopped by to see the progress on Quinn's Corner.  He loves your sweetheart as much as I do.  She was in the solarium, as it was a nice day outside.  Pepita immediately jumped into his lap as soon as he sat down, demanding love and reciprocating in the most adorable ways.  They then had a nice long chat about all the changes happening at Tabby's Place and what an exciting time it was to be a part of expanding the sanctuary's reach to FeLV and other kitties. Though Pepita doesn't directly get to see all parts of the building, she can feel the excitement in the air, and the hustle and bustle of the volunteers and staff as they start to use the new facility and move the kitties around.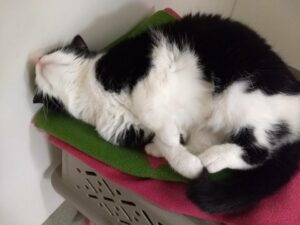 We wish you a wonderful St. Patrick's Day, but even more importantly we are wishing you time to remember and celebrate St. Gertrude, the patron saint of cats.  In remembrance of her, many Catholics celebrate St. Gertrude's feast day on March 17, alongside St. Patrick's Day. We all consider you to be Pepita's patron saint, devoted to her care and loving her with your kindness and generosity each month. I hope you can visit with her sometime this year!
Look for more stories of Pepita joy next month, as spring hits in full force with flowers and sunshine galore!
Your correspondent,
Sheila