Happy 2020!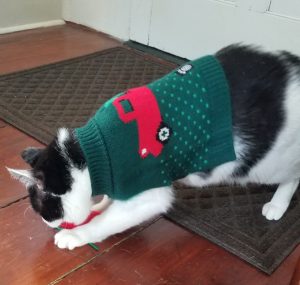 Newman had a very eventful holiday break. Sporting his new Christmas sweater, he was the life of our family holiday party.  Newman had his very own seat at our twelve person dining table, yet he chose to hop around and sleep on everyone's lap throughout the party. On Christmas day, Newman ripped up wrapping paper and received a new mouse toy. Of course, we spoiled the special boy rotten!
In other news, Newman's health has stayed fairly consistent these past few months. He is soon due for another visit with the Tabby's Place medical team for his regular check up. Any recommendations for new medication will be given at that time. Overall, this cuddly boy is doing quite well given his circumstances. Thank you all so much for your continued support of Newman and his special needs. He gives a big hello and sends love to all of his sponsors!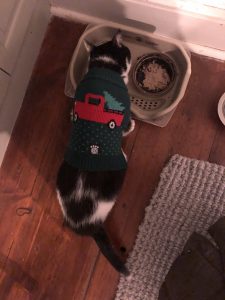 Wishing you the best in this new year.
Your correspondent,
Newman's Forever-Foster Mom,
Marin