Happy Holidays to all of Newman's devoted sponsors!
I hope everyone enjoyed a lovely Thanksgiving feast with family and friends.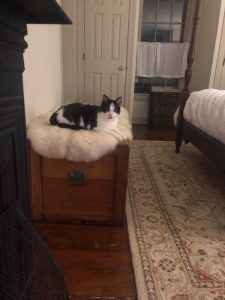 Maybe if you were around Tabby's Place over Thanksgiving you would have seen our delightful boy Newman. He stayed the week in the back shower area attached to the volunteer community room. Aside from having a little vacation, there is nothing new to report for him, and that is a great thing!
Health has still stayed consistent, and we are still trying to battle against a constantly clogged nose.  But he has an amazing appetite, amusing energy, and all else remains the same. Our favorite boy is a trooper.
During the holiday season I want to say a special thank you for giving what you do for Newman and his other furry friends in need. He lives the good life because of your care for him. Thank you so much.
His Forever Devoted Foster Mom,
Marin