Happy Fall, everyone!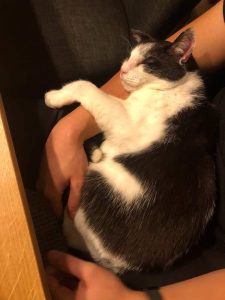 It sure feels more like winter! I hope everyone is staying warm and getting ready to have a scrumptious turkey day meal!
This past month, Newman sported his furry black-and-white costume for Halloween and was the center of attention at our Halloween/ Fall party.
Our energetic boy is doing great. When he's not napping the day away, his energy is full speed ahead! You can find him rolling around on the floor in the sun rays, pouncing on his catnip toy, and following us everywhere we go.
What a delight to see after his chemo and time with cancer just 2 years ago!
Thank you so much for your continued kindness to this very special guy. I know he holds a very special place in all of our hearts.
Sincerely,
Your Correspondent and Newman's Forever Foster Mom,
Marin