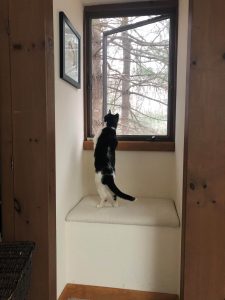 Dear devoted Newman sponsors,
Spring has sprung! Woo hoo!
Newman's March happenings consisted of enjoying many nice days with the windows open. Newman has found his perfect spot by the window, and he loves to watch us while we work outside, or to watch—with wide eyes—the birds at the feeder.
In medical news, Newman has been receiving antibiotics and antiviral medication, plus nose drops when he gets really stuffed up. Overall, he is continuing to be a very healthy boy despite all he has been dealt.
He has also been a hungry and talkative boy this year, much to our dismay! He has been meowing for food in the wee hours of the morning and just seeming a little more frantic for food overall. I will ask our vet techs and Dr. C why this might be.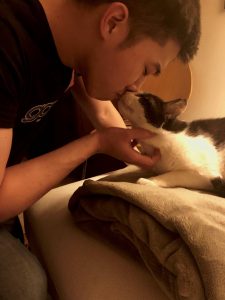 Here is a picture of Newman with my husband Andrew.  It shows how they greet each other when he gets home from work.
I want to do a shout out to a particular sponsor this month. I received the Valentine's Day card and present from one of you.  It absolutely melted my heart to get your letter, and you made me really feel the complete circle of caring for these fur babies of Tabby's Place.
Thank you all for everything you give to our Special Needs cats. They deserve it, and their lives would not be as great without you.
Love, your correspondent,
Marin