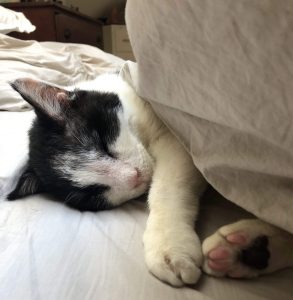 Happy "almost spring," everyone.
This month's update for Newman is a simple one.
Newman has had success on his trial run with some new antibiotics. He may need to be on antibiotics and antiviral medications for the foreseeable future to keep his nose less irritated post-surgery. Without the antibiotics, he tends to sneeze and have a runny nose.
Health issues aside, he is a happy and energetic boy. Today I held him on his harness outside in the sun for a few minutes, because it was so warm out!
As we all know, he is one lucky furry fellow. I thank you for all the love and generosity you send him. Newman thanks you, too!
Your correspondent,
Marin