Greetings and welcome to May, my dearest friends!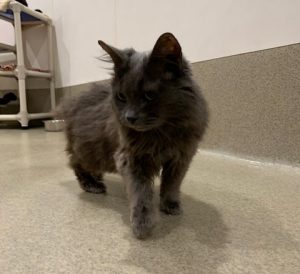 Sponsors, it has been another month of humans quarantining here in Ringoes, NJ.  It is super strange for so much time to pass without seeing all of my volunteer buddies.  Don't get me wrong… our staff members here at Tabby's Place have been taking stupendous care of us and making sure we have everything we need.  Thanks to your generous sponsorship, my life hasn't changed much other than seeing a lot fewer humans around. I am still spending my days romping and snuggling with all of my friends here in Suite A. My joy has not dwindled, and I am trying with all of my might to send you love and hope to get you through this difficult time.
I was just speaking with my correspondent on a video call, and she was telling me about what's been going on out there. She said that everyone is struggling and that so many people are either sick or have loved ones who are sick with this horrific virus. And she said that the financial effects of this crisis will be devastating for the humans… so especially now, I want to tell you how much I appreciate your sponsorship! Please know that my furry grey heart goes out to each of you. I am sending you every bit of cuddly comfort that I can muster.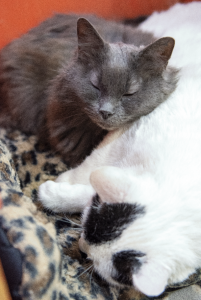 I hope that it is at least helpful to know that I have been in good health and feeling like myself this month. Thanks to you, I receive all of the wonderful care that I could ever wish for. Our super fantastic staff folks give me daily butt baths and do everything they can to keep me clean and comfortable. I am embarrassed to share this with you, but since I know that you love me no matter what, I will tell you that I am not the only kitty receiving frequent baths due to my leaky backside. My bestest friend Angelo does not have the opposable thumbs or the access to grab towels and wedge them between us when we snuggle like the humans do. We spend hours upon hours spooned in the nearest warm bed, and poor Angelo sometimes ends up with a bit of my, um, "leakiness" in his fur. He doesn't seem to mind one bit, and he promised me that he actually enjoys the extra bathing from our human friends. It just means more love and pets, so Angelo is all in. This is why we are besties! We live by the same rule… any and all human attention is a good thing!
I hope that the pictures I am attaching to this month's update will bring a smile to your face. Especially if you are in desperate need of a smile, please remember how much I love you! I wish that I could curl myself around you and give you a fluffy grey hug! Although while my backside is so leaky, you may prefer a hug from afar, considering the threat of stinky consequences… however since you know me so well, I trust that you would know to bring a towel.
Please take good care of yourself and the other humans around you who need help. Especially now, with everything that is happening in our world, I cannot put my gratefulness for all you do for me into words. Thank you for your generosity and for being my sponsor! If you are a volunteer or if you live close enough to Tabby's Place to visit me when the world recovers a bit, I promise you that we will be together again soon. Until next month, be kind to one another.
Love, Mary
(With help from your correspondent, Florie)