Hello, my beloved sponsors!
I hope April finds you safe and happy and healthy. My, oh my, how the world has changed since my last update. It's hard for my kitty brain to process it all, to be completely honest. I have seen some crazy times in my life, especially before I was lucky enough to come to Tabby's Place, but the last month has been above and beyond weird.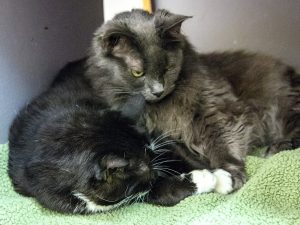 So, in case you don't already know, the humans here in Ringoes, NJ are on full lockdown, meaning they are required to stay home as much as possible. Tabby's Place made the incredibly difficult decision to close to the public and our volunteers are no longer allowed to be in the building. Only critical staff members are coming in to take care of us now, and they are doing everything they can to keep our lives as "normal" as possible. They are giving us tons of love and attention to try to make up for all of our volunteer friends who cannot visit us right now, which sadly includes my correspondent. I miss her so much, and I know she misses me too!
How did I write this month's update without her, you may ask? Well, you will be very proud of me, sponsors… because I learned a new technology this month that allowed me to chat with my correspondent remotely. It was so helpful just to see her face! She said it was super therapeutic for her as well. She told me that it is basically an alternate universe out there and that many humans are getting sick and losing their lives to this horrific virus that has struck the entire globe. It sounds inexplicably awful. I hope you all know that my furry grey heart goes out to everyone who has been affected by this crisis. If you are struggling personally or you have loved ones who are struggling, with health or finances or anything, please remember that I am sending you endless fuzzy snuggling hugs to comfort you.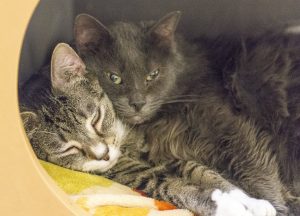 My correspondent suggested that since she couldn't be here to take pictures of me this month, that we should include older pictures that other folks have taken of me cuddling with my various best buddies over the past while. One picture is of me and my bestie Hailey, and one is of me and my bestie Ditto.
Notice how I apparently cannot get close enough to either of them, and I am practically lying on top of them. I think you know this by now, but I will happily snuggle with any other warm kitty that will indulge me in the nearest cozy bed. I hope these pictures make you smile.
I also hope you know how incredibly grateful I am for your sponsorship during this uncertain time. You are the reason why I still have the best care, even while our world is in chaos. I assure you that I have everything I need, thanks to you! Although I do miss all of my volunteer human friends, and the humans who visit as potential adopters, our super fantastic staff is showering us with all the care and affection we could ever ask for.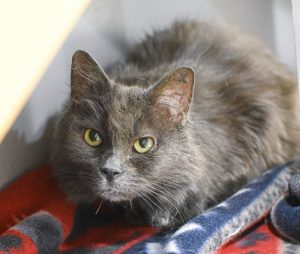 I am thrilled to tell you that I have had a healthy month, and I am feeling happier all around, even with everything that's happening outside our doors. I am hoping that the future will be a bit brighter for the rest of the world by the next time I write to you, my friends, but please try to stay positive in the meantime. I hope that my consistent attitude of joy and fun despite my troubles can inspire you even a little bit to find things to be grateful for during this stressful and difficult time. Remember that this is temporary, and the day will come when the world goes back to normal.
For now, as always, I love you with all of my furry grey heart and I am thinking about you every moment of every day.
Until next month, be kind to one another.
Love, Mary
(with help from your correspondent, Florie)