Greetings, my beloved sponsors!
One of my favorite months has begun. Love is my middle name, so I of course love the month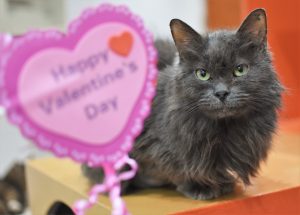 of love.
In honor of Valentine's Day, I recently posed for two pictures to wish everyone the very best day on this holiday. When my correspondent visited me this month, she showed me these pictures and asked if I would like to include them in my update. She told me that I look beautiful, and that you would all love to see them. I hope you do!
I do think the color pink plays nicely off of my fluffy grey fur. And you'll see that the decoration wasn't just pretty, it was also a randomly fun cat toy. I just had to bat it around a bit. I couldn't help myself! As you know, if I have an opportunity to play, I will take it!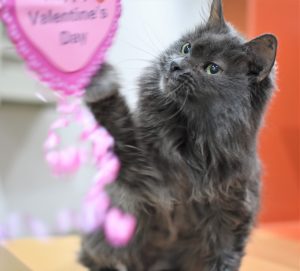 So I do hope with all of my heart that you have lots and lots of love in your life, this month and always. Love from people, animals, whoever makes up your biological or chosen family, maybe even a special someone. Everyone deserves love in their life. I hope you know how very much I love you! And especially during this month of love, I am sending every ounce of my appreciation to you for everything that you do for me!
I have been looking forward to telling you that I have been doing very well over the past month, and I am ever so grateful. I have been healthy and happy and spending my time frolicking and napping as always. I did have a round of conjunctivitis in one eye, but my super fantastic vet team cleared it up quickly. My correspondent told me that the staff here at Tabby's Place have been talking about how they frequently find me curled up with Angelo, which I guess is quite true. He and I are besties and we love keeping each other warm during the colder weather by cuddling up in the coziest bed we can find. I just adore him!
Well, wherever you are, I hope love is finding you and surrounding you with joy. Always remember that I am sending my kitty love to you and thanking you every day for your generosity and your sponsorship!
Until next month, be kind to one another.
Love,
Mary
(With help from your correspondent, Florie)