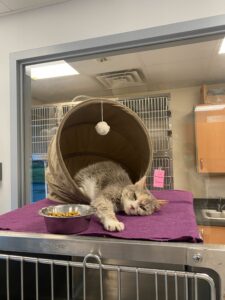 Dear Team Luna,
It's the beginning of a spanking fresh, brand new year and, in her inimitable style, Luna just can't wait to get started!  With daydreams aplenty, resolutions galore and a "To Do" list a mile long, our determined diva is ready to put 2021 behind her. Luna is welcoming the possibilities and promise of 2022 with all the pussycat panache and feline flair for which she is renowned.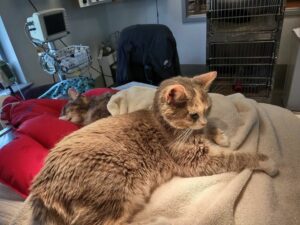 That said, we are thrilled to tell you Luna is entering the New Year in excellent health.  Both her skin and fur are looking lovely these days, and the medications she takes routinely are doing their job of keeping her many allergies at bay.  She and Angelo continue to grow their relationship and get along fabulously in the lab together. Her ever doting companion, Angelo has wisely embraced his place in Luna's pecking order and all is right in their world.
Luna loves her life in the medical suite and, as you can see, fully participates in nearly every aspect of patient care. Now free to roam outside of surgery with the lab cabinet door keeping her out of trouble, our meowing little mensch once again assists in warming up recovering patients.  It's remarkably sweet, really, and we are always touched by how she approaches this task with such loving, tender care.  No recovering kitty need wake up from their post-surgical slumber alone.  Luna is always there, watching over them quite maternally, making sure they suffer no distress.  "Calm, Comfortable and Cared For" are Luna's watchwords.  We could search the world over and not find a better nursing companion for our little loved ones, and we're convinced that God, the Fates, Destiny—what have you—brought her to us for just this purpose.  Call it what you will, Luna is a godsend and a great gift to all who cross her path.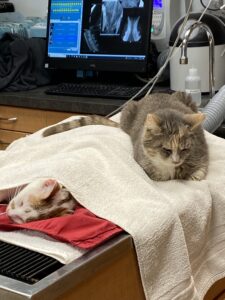 For the winter months, stroller rides—a favorite pastime of Luna's—are on hold … and we can all be glad of that.  With plenty of other things to keep her busy, she has not yet discovered our onsite construction has reached a slowdown.  Some of our needed materials have been delayed in the supply chain and we also face some shipping challenges. Some construction activities, like pouring concrete or asphalt, cannot be accomplished when temperatures drop.  We now expect the opening of our new addition in late summer rather than early spring.  Of course, mums the word!  We haven't apprised Miss Luna of this "little bump in the road" just yet.  It simply seems unkind to shatter her current contentment with news she can really do nothing about. We prefer to keep her focused on the many tasks at hand and all the things she does so well.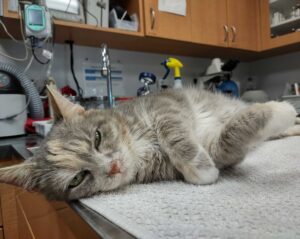 So shhhh!  It really is so much safer for the construction crew this way!
Thank you for your generous heart that keeps Luna in our safe hands and enables her to be the best medical assistant ever!
Your correspondent,
Tina Bergman