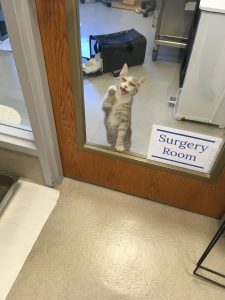 Happy spring, dear friends of Luna!
With the world waking up from its winter nap to something called COVID-19, we find our ever-curious Luna in a bit of hot water.  Yup, her super inquisitive nature has found her losing some of her roaming privileges, all for her own safety when the weekend rolls around and the usually bustling hospital suite quiets down.
I arrived on a recent Sunday afternoon (prior to our beloved Tabby's Place being subjected to quarantine) to this adorable picture of her, the caption of which could read "let me outta here….now!"   You see, our petite bundle of non-stop energy has made it her life's calling to investigate EVERYTHING.  You can well imagine that requires keeping tabs on her for her own protection, but Luna doesn't get discouraged.  She then just investigated me once I entered her orbit…crawling all over and settling around my neck, nestling in my hair!  We had a lovely visit that Sunday afternoon, peering out the window, checking out the garden outside as it was starting to come alive.  Even given her curious nature, she also loves her cuddle time.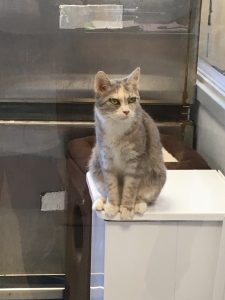 As you can see from this beautiful snapshot of our girl (complete with her natural mascara), the magical power of Tabby's Place brought her much relief from her skin issues.  Sadly, that relief was short-lived, and Luna then took a rollercoaster ride. In less than a week, she went from looking glorious to having a fever and severe inflammation around her face, neck and lower back.
The cause remains a mystery, but our medical team thinks flavor additives in a medication may have triggered the episode.  Adjustments were made and Luna's fever subsided.  Thankfully, she is improving daily.  And thankfully, she has you, dear sponsors.  Knowing she has you in her corner means so much.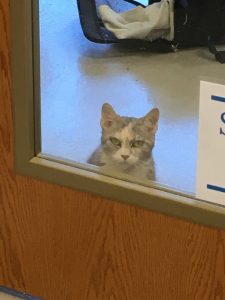 So, back to our last time together, a time I long for again.  Sadly that visit came to an end.  Our dear Luna can pull at those old heartstrings ….. and as I turned to say one last "See ya soon, Looney", there was this face…..the one that needs no caption.  Having no idea there would be such an interval between our visits, I am grateful for these pictures that brighten these difficult times.  We all wish you good health in mind, body, and spirit, as we all navigate these difficult waters, and thank you for your continued support of the very special residents of Tabby's Place.
Your Correspondent,
Sue