Happy St. Patrick's Day!
(Your correspondent is Irish, by the way.)
Mardi Gras has come and gone, and the world is festooned with shamrocks and eagerly anticipating the arrival of spring and all other things green.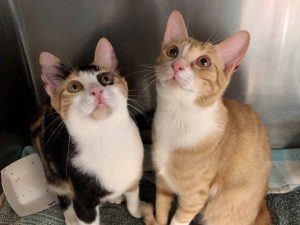 At Tabby's Place, however, spring comes in all sorts of colors.  Last season brought every possible combination of black and white and tabby stripes.  And if this year's early arrivals are any indication, spring 2019 is looking multi-colored.  It's a calico and orange and tortie year so far, with sprinkles of tabby in between.
Said new arrivals have come from a local feral colony (Pawla, Purrscilla, and Clawdia) and as far away as Lebanon (Marble and Cinnamon, along with their young mom Lotus).
The Kitten Room is again full of life and general frivolity!  Marble and Cinnamon have only recently cleared quarantine and will join in on the fun soon.  In the meantime, upon entrance, you are likely to be greeted by the very gregarious and chatty Purrscilla.  Most of her roommates are still gaining confidence but enjoy some nice pets if you give them a few minutes to warm up to you.  Purrscilla and her sister Pawla have found a friend and playmate in curious but dainty Celsey.  The three of them are usually poking around chasing toys or checking out the lobby.
We do have two extra, extra shy girls:  Hamsa and Elsa.  Elsa has found comfort and friendship in mild-mannered Clawdia and will enjoy some nice pets if you can catch her.  Hamsa, on the other hand, is a hide and seek champion. But we at Tabby's Place are very stubborn with our love, and Hamsa is slowly learning that we mean her no harm.
Speaking of shy young cats, Hunts is settling in nicely to Community Room life.  He's still a nervous boy, but he's made a few feline friends and enjoys sunning himself in the large windows.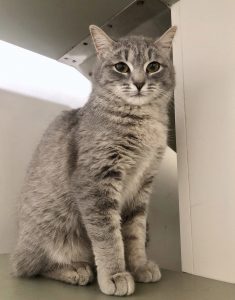 And then there's Jude, whom I still call "little Jude" in spite of the fact that he is enormous (by kitten standards, anyway!)  Jude is thriving in the care of our Volunteer Director Karina.  He's big, and absolutely fearless, and will tell you right off if you try to get in the way of his adventures.  His seizures have been well controlled with medication, and he's getting stronger every day.  We're all pulling for this sassy little guy and hoping he has a long and happy life.
Last but not least, we have a sweet little girl named Lex, who came to us from Baltimore.  I was lucky enough to be the first to meet Lex as I transported her from Delaware to Tabby's Place myself!  She's a beautiful and happy kitten despite her chronically bad eyes. They're cloudy and usually pretty goopy, but she is no less joyful for it.  We're not sure of what the core problem is yet; Lex is seeing an ophthalmologist soon to determine a course of treatment.  In the meantime, she is living in the hospital and just dying to explore and make new friends!
And finally, the best news of every month!  February saw Firestone and Tiger each go individually to their forever homes and Michelin and Rambo go to theirs together.  After Rambo and Tiger's terrible battle with ringworm and Michelin and Rambo's crippling shyness at their arrival, it's wonderful to see them find their families.
Kitten season is upon us soon!  We're already bustling with young energy, so I expect I'll have lots more to tell you in the coming months.  And as always, the staff—and the kittens—are very grateful for your sponsorship.  Until next month…
Your correspondent,
Tara