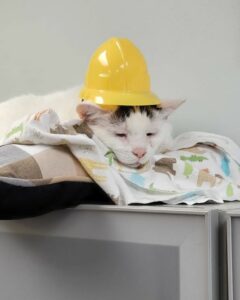 Dearest Friends of Frankie,
Summer is in full swing, Frankie fans, and it's time for another update on our Ol' Blue Eyes. Medically, Frankie is doing better. His loose stool has cleared up to the point where he's no longer on medication for it, which is great news. A staff member noted one episode of Frankie coughing over the past few weeks, but nobody else reported seeing that. We have no idea what might have caused it at this point, but unless it recurs, it shouldn't be a big deal.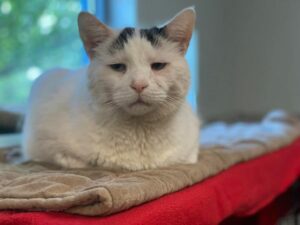 And socially, you ask? Well, our boy is still on medication to regulate his behavior toward other felines, though he continues to be quite the love bug with people. It's often far easier to resolve medical problems than it is behavioral issues. We know that Frankie was an "only" cat for a long time; having to make a sudden transition to life in a room with multiple other cats can't be easy for him. So far, he has tolerated the behavioral medication very nicely (not always a given!), and it helps keep him calm around those annoying other cats, who somehow insist on continuing to share his living quarters.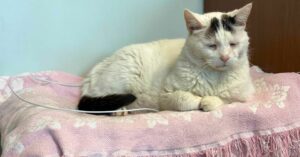 Frankie has been busy supervising the construction of Quinn's Corner, which is progressing well and looking like a real building at this point. He needs to nap, though, as all that supervising out the Community Room window makes him quite sleepy.
We've been delighted with Frankie. He's so sweet around people and we know he has so much love to give, and somehow his sad face makes you want to give him a great big hug. We're hoping that he'll find his forever home soon. Until that happens, he'll stay with us, being spoiled by, um, I meant, well cared for by the Tabby's Place family.  Thank you so much for helping us look after this special boy!
Your correspondent,
Stephanie