August Greetings to You, and to all Fenek's Friends.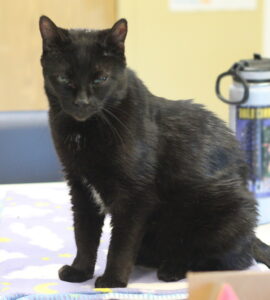 I like my job. I like where I work, too. One reason is that my employer allows us to work just half a day on Fridays during July and August.
Well, what to do with that half-day off? Obviously, go visit some good cats (and one in particular)!
One Friday last month, I got on the road at mid-day in near-90-degree conditions, and by the time I reached greater metropolitan Ringoes, New Jersey, it was hotter still.
But what I didn't know until I went inside was that the air conditioning system at Tabby's Place was malfunctioning. Perfect timing: the heat index had gone up, and the AC had gone down.
Men were walking around purposefully, wearing t-shirts branded with an HVAC company's logo. One opened a door, briefly revealing a roomful of equipment, and closed it behind him.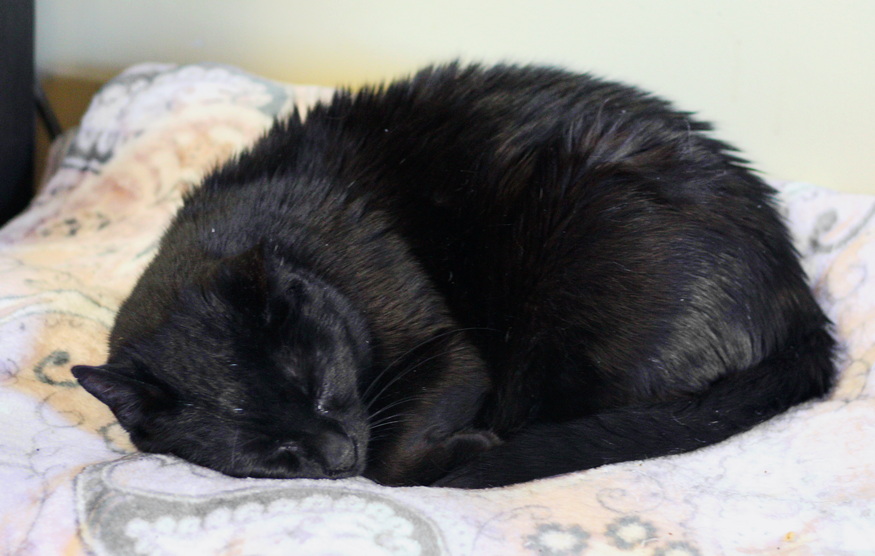 Tabby's Place staff, committed to keeping the cats safe and healthy, had placed large portable fans in some rooms and left doors open that were usually closed, keeping the cats contained instead with large baby gates that permitted the cooler air to circulate. All in a day's work for them! It wasn't the first time they'd had to work through weather-related difficulties; in 2011, the freak storm henceforth referred to as "Snowtober" left them without power for more than two days.
Recently, Fenek had his blood glucose levels reviewed and the result was a decrease in his required insulin. When I reached the lounge, he was napping, or at least his eyes were closed, so I took a picture of him in his resting pose. I would have tried another one from closer to get a sharper photo, but he opened his eyes, got up, and began moving toward me. I knew that was the only shot I was going to get; with cats, as with other animal photography, there's a saying that goes, "Get a picture. If there's time, get a better picture."
Very soon, I welcomed him onto my lap, where he stayed for close to an hour. This is par for the course for him lately, since the scorching temperatures have prevented Tabby's Place staff from having their lunch outdoors. Instead, they eat in the lounge, where for that hour, a certain black Distinguished Gentleman cat has his pick of laps to visit.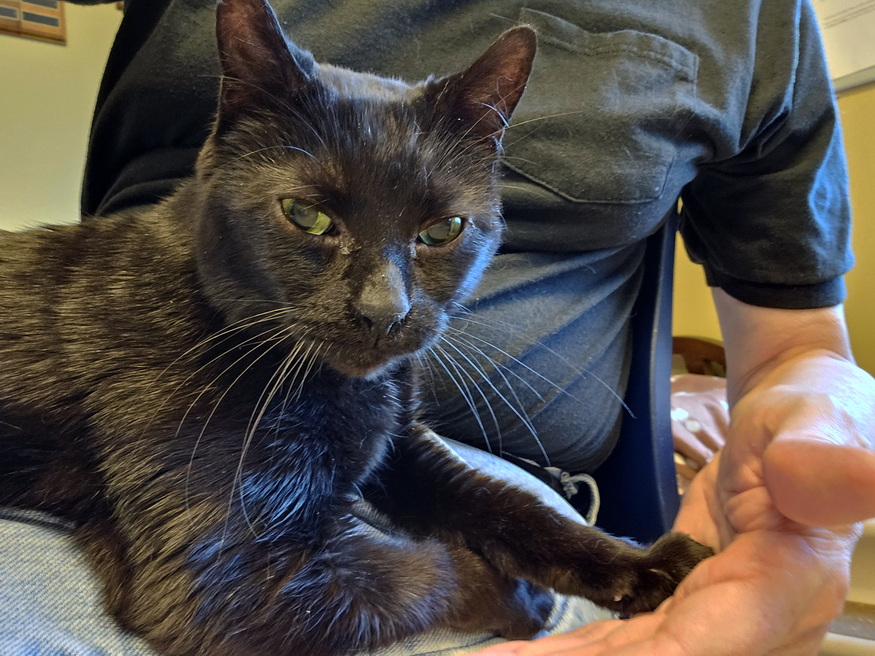 While Fenek was on my lap, I found within reach a copy of "Scarlett Saves Her Family," the inspiring story of a brave cat and a devoted mother. That reminded me of the recent award to the English cat who serves as the ears of her hearing-impaired human.
Before I go, the annual Linda Fund Matching Challenge has just gotten underway. While the mission of Tabby's Place is to help cats in hopeless situations, the Linda Fund is earmarked for care in the most urgent circumstances. Fenek is one of many cats who has benefited from the fund for his past health challenges.
Thank you for all you are doing to help Fenek live his best life every day.
Until next month, wishing you all good things,
Your correspondent,
John