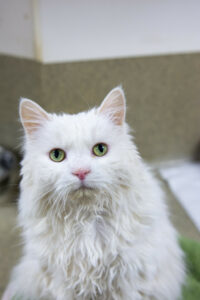 Happy brink-of-Spring, Faye friends.
Angela here, Tabby's Place's Development Director, gleefully guest-writing for our dear Beth. While I can't aspire to Beth's poetry and pizzazz, I am one of Faye's most smitten admirers. I lost my heart to this majestic snow-capped mountain of a cat many moons ago, and she has yet to give it back.
Then again, "giving back" is what Faye does best, isn't it? For every gallon of love she receives, she repays us — effortlessly, elegantly — with oceans of Faye Grace.
Faye Grace, I would contend, is one of the sweetest forces in the entire known world.
Faye Grace is the gentle gaze that greets yours when you walk into Suite B. Whatever winds may be whipping through your day, Faye's smiling eyes will still the seas and whisper: "all manner of things shall be well." She's a purveyor of peace, our Faye.
Faye Grace is the generosity of spirit that will wrap you in love like a furry white blanket the moment you begin snuggling our girl. You may be the one petting Faye, but it's she who is swaddling you in sweetness.
Faye Grace is the invincible joy that follows our princess like a cape. Even in her (ahem) advanced age, Faye takes herself and her troubles lightly, with a wry smile and a love for life that are scrumptiously contagious.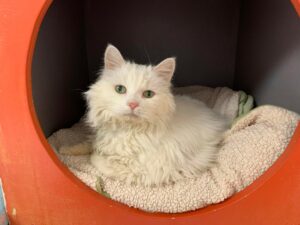 Faye Grace just might heal our tired old world, if we'd let it.
But until the United Nations learns of Faye's peacemaking powers, we're blessed to have her holding court here at Tabby's Place. And, I'm grateful to share that our graceful girl has been enjoying a month of mercy, medically and otherwise.
We've tweaked the dosage on Faye's anti-nausea medication, which has brought an end to her sporadic vomiting. Although Faye developed an annoying upper respiratory infection just after Valentine's Day, antibiotics have cleared it up nicely. Going forward, we're optimistic that we can again lower her anti-nausea meds.
Then again, we're always optimistic when we're in Faye's presence. The warm white cat with the wonderstruck gaze has a way of reminding us: the world is always turning back towards the sun.
Spring always arrives right on time.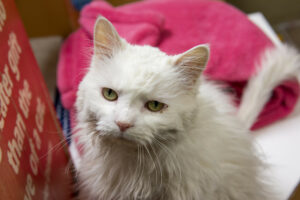 And there's a great, giddy garden of love, enough for every graceful and gawky flower alike, at Tabby's Place.
Thank you, dear sponsors, for filling Faye's days with grace, generosity, and all the care she needs to thrive…and to take care of us in her own Faye way. It's an honor and a joy to serve our beloved beauty and all the Tabby's Place cats with you.
Have a magnificent March!
With gratitude and affection from your guest correspondent,
Angela